Feeling Festive? 4th of July Crafts, Recipes, Ideas, and Memories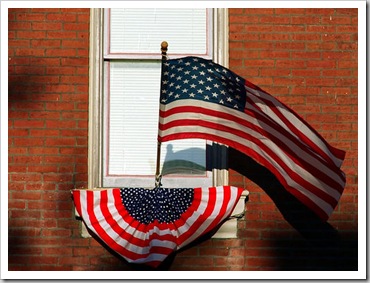 We are approaching one of my favorite holidays, the birthday of our nation (plus my bro's 40th).  I LOVE the patriotism, the fireworks, the family gatherings, the parade, and the FOOD! 
We already took in a local fireworks display this past weekend, just to kick off things a little early.  We are planning a couple of family gatherings on Saturday and Sunday with the traditional fixin's and pastimes.
As the boys get older, the holidays just seem to get better.  Love celebrating WITH them, and watching them take it all in!
Here's a few of my favorite 4th of July ideas, crafts, and recipes:
Pioneer Woman's 4th of July Arsenal Looks Too Good for Words
These caramel pretzel sparklers from Amy's Finer Things are festive and fun.
If you are looking for great book selections about the USA, No Time For Flashcards is where to turn.
Make and Takes has some patriotic fruit skewers that I'll be taking to one of our family celebrations.
Feeling Crafty?  How about this make your own confetti popper rocket from Alpha Mom?
And throwing in a few of my favorite memories just for the nostalgia of it all:
Some of our Favorite 4th of July Fixin's
My own little statues of liberty.
Gotta love these sweet little flag waving babies.
What are some of YOUR favorite 4th of July recipes, activities, and memories?  Can't wait to hear about them.  Feel free to link your favorite 4th of July Memory, Craft, Idea, or Recipe in the Linky below and link back to this post or share with us in the comment box.  Can't wait to read all about them!