Simply Homemade: Easy Banana Chocolate Chip Pancakes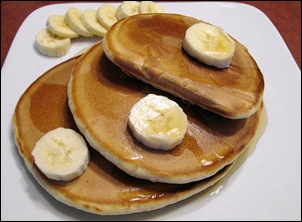 I made some simply delicious banana chocolate chip pancakes yesterday on a whim.  I was searching the freezer, fridge, and pantry for an easy meal for lunch, and came up empty handed, until my head said PANCAKES!  I whipped out my beloved and worn Betty Crocker's Big Red Book
*, and carefully tweeked a Banana-Pecan Pancake recipe into my own Banana Chocolate Chip Pancake creation.
I have no regrets. Zilch.
I doubled the recipe and froze the leftovers in freezer bags, so we'll have another quick and easy breakfast/lunch on hand.
___________________________
Banana Chocolate Chip Pancakes
2 large eggs
2 c all-purpose flour
2 c of buttermilk (I substituted with milk and vinegar
3 medium mashed bananas
1/4 c of granulated sugar
2 t baking powder
1/4 c vegetable oil
1 t baking soda
1/2 t salt
1 c chocolate chips
Beat eggs in medium bowl with hand mixer.  Beat in remaining ingredients, minus the chocolate chips until smooth.
Heat electric skillet to 375 degrees and lightly grease with butter or non-stick spray.
Pour 1/2 cup of batter onto the hot surfaces, cook until pancake is bubbling and dry around the edges.  Flip and cook until golden brown.
___________________________________
YUMMILICIOUS!
What kind of pancakes are you favorite to make/eat?

*Links to Amazon.com affiliate
This post is linked to Diaper Diaries Things I Love Thursday, Southern Fairytale's Mouthwatering Monday and Balancing Beauty and Bedlam's Tasty Tuesday.