30 Day Giving: Savvycents Budgeting Organization Giveaway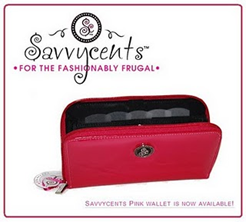 Today I have the opportunity of featuring Savvycents as our sponsor for the 30 Day Giving Challenge. Their wallet organizer just officially made my Christmas list!  Brad and I have been had to be very strict with our spending this past year, but to be honest we are not on a cash-based budgeting system, but I would love to try it for this upcoming year.  If you are not familiar with a cash-based budgeting or an envelope system, it consists of separating your expenses into categories, and spending cash only for those categories. It makes just makes "cents" to use this form of financial accountability.
Here's the scoop on the Savvycents Wallet:
The Savvycents wallet is not only functional but also fashionable. It contains everything you need to organize your monthly or weekly budget using a cash system. With an accordion style file system inside the wallet you can separate money, coupons, receipts or store discount cards by categories. Your wallet comes with file cards where you can label each category with our pre-printed labels. It also has 6 pockets for debit cards and store discount cards. On the opposite side there is a place for your driver's license and a place for your checkbook.
Enter to win a Savvycents wallet for your family to use or donate:
Leave a comment telling me if you have ever tried a cash-based system.
(If you are reading via email or in a reader, please click through to the post to enter.)
Bonus Entries: (Leave a separate comment for each.)
This giveaway will end on Tuesday  (11/30) at 9 p.m. EST. The winner will be drawn randomly, and notified via email.
The other bloggers leading the 30-Day Giving Challenge are also giving away Savvycents Wallets. Stop by each of their sites for more chances to win!