How Sweet It Is: Valentine's Treats and Eats for Your Sweetheart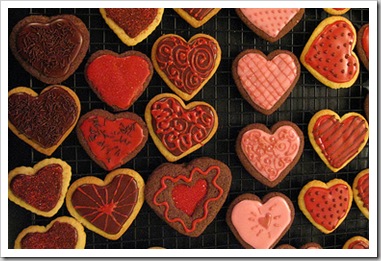 You know the way to a man's heart, right?  It starts in the oven!  Let's start with dessert first, shall we?
Here's Some of My Favorite Valentine's Sweet Treats: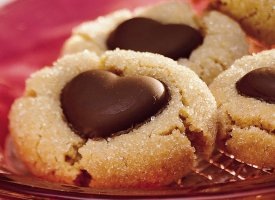 These Valentine's Day Peanut Butter Cookies from Betty Crocker topped with a chocolate heart have my name written all over them.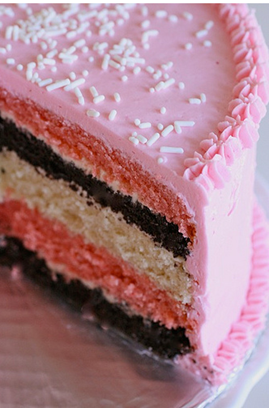 I can almost taste the sweetness of this Neopolitan Layer Cake from Annie's Eats. Be still my heart!
This Valentine's Day themed party from It's Always A Party at the Parker's is ridiculously creative. A whole spread of Valentine's treats!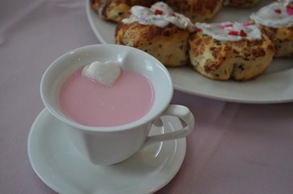 PINK Hot Chocolate?  Why didn't I think of that?  So glad Life if a Party did! And those "Love Buns" look pretty enticing too!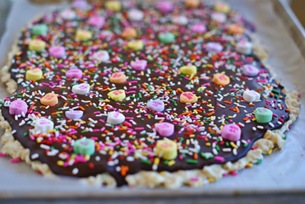 I've yet to see anything on Bake at 350 that doesn't look ah-mazing… including this Valentine's Conversation Heart Candy Bark.
————————————————————————————————————
And if you saved some room for real food, you should head over to Foodily to create a Valentine's Day menu for your romantic dinner at home.  You can search through menus already created or whip up one of your own in just a few short clicks! 
I created a Valentine Dinner Menu that I think Brad would fall head over heals for in less than 5 minutes!
Artichoke, Lemon, and Parmesan Pasta. (Brad is crazy about artichokes!) The Perfect Caesar Salad. Red Velvet Cupcakes. Permission to copy granted!
Better yet?  Create your OWN Valentine's Day Menu. Share it. AND be FEATURED on the Foodily site! Here's how:
Go to Foodily.com and login with Facebook Connect (or create a login).

Play around with recipes and find your favorites to create a perfectly delish Valentine's Day meal!

Once you've selected a recipe save it to a menu: From the recipe, select the "save" button, save it as an appetizer, main, etc., and then it'll ask you to name your menu. Create your special Valentine's menu title. You can continue to add your favorites to your menu.
View your menu (either from tab at top or from your profile) and grab the URL (you can also share your menu on Facebook and grab the URL there). Note: the URL will look similar to this: http://foodily.com/m/1234
Tweet the following and be sure to include the #foodilyvdaymenu hashtag at the end:
Check out my @foodily Valentine's Day menu! Create one of your own! http//(your menu URL here) #foodilyvdaymenu You can also enter by sharing your menu on Foodily's Facebook wall.
Foodily will be watching and selecting menu winners daily to be featured on the Foodily site!

Happy Valentines Weekend, Sweet Friends!

* Reminder: Foodily and Clever Girls Collective have asked me to be a Foodily Ambassador as they launch this site.  Thanks to them for sponsoring my efforts in testing the site, providing feedback and recipes, and sharing this awesome resource with you!