Peace, Patience, Kindness, Self-Control…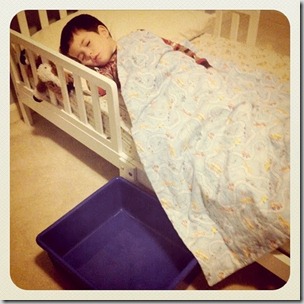 We have had a rough time staying healthy this winter.  Starting back in the fall, we just seem to be sick more often than not, and are just ready for the warm, healing winds of spring to give us a break.  Many others around us have experienced a similar or worse winter with illness.  For us, on my 30th birthday, yet another round of stomach illness started this morning.  Since it is less than a week after the last one finished, it is difficult to remain encouraged.
It is pretty easy to start feeling sorry for yourself when you are dealing with sick children.  It wears on your patience and can really affect your attitude in negative ways.  I am writing this as a reminder for myself, and I wondered if others might need the same encouragement. 
I believe that God is in control of all things, good and evil.  He is incapable of evil Himself, but even those evil, nasty things that happen in our lives are no surprise to Him.  He is capable of stopping them all, but chooses to allow the trials in our lives.  Romans 8 declares that God causes all things to work together for good for those who love Him.  Christians can bank on that promise in everything that comes our way.
Since I have that hope and recognize that this is not just "bad luck", I look at my often poor attitude during these times and need the reminder that the standards for my behavior towards my children and my wife do not change due to circumstances.  I need to exhibit the fruits of the spirit ESPECIALLY during these times when my family needs me. 
But the fruit of the Spirit is love, joy, peace, patience, kindness, goodness,  faithfulness, gentleness, self-control; against such things there is no law…  If we live by the Spirit, let us also walk by the Spirit. – Gal. 5:22-25
I am going to strive today to remain joyful, patiently attending to the needs of my family while taking the opportunity of illness to pour out my love on them and encourage them.  After all, while we were His enemies and giving him every reason to punish us, He chose instead to send His only son to suffer a horrible death on the cross. (Rom. 5:10)  We know nothing of that kind of suffering, and should seek to live like Christ.
Brad (The Not Yet Sick Dad)