Clearing the Dust and Cleaning My Heart…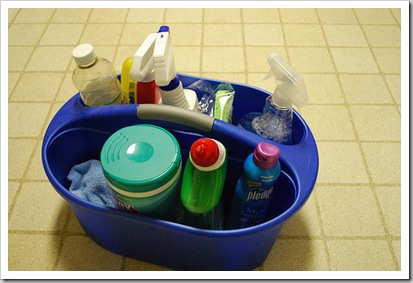 Over the last several weeks we've been working on cleaning the house, getting things organized, going through and cleaning out things we no longer need, etc. My checklist has been longer than the line at Walmart on Black Friday, but it's going to be so nice to have most if not all of it completed before my surgery on Thursday. 
We've donated clothing, held a garage sale, cleaned out closets, switched our guest room downstairs and our office upstairs, and given our trash man a good reason to request a raise along the way. Today I was blessed by a sweet friend coming over to clean my bathrooms and kitchen.  What an incredible gift of love! 
I hate getting so behind on housework, laundry, organizing, etc. There just never seems to be enough time or physical energy to complete it all.  Anyone else with me?  And sometimes I confess, I fret over my piles of laundry and to-do list instead of just digging in and getting my hands dirty!  I allow guilt to creep in over my failures as a wife and a mom.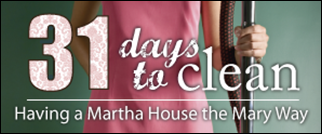 I've been on a mission to combat the guilt and working on my heart behind keeping the home, rather than just the tasks that overwhelm me. I'm so thankful for resources to help me along the way like, Tsh's book, Organized Simplicity: The Clutter-Free Approach to Intentional Living
and Sarah Mae's recent eBook, 31 Days to Clean; (I'm growing fonder of eBooks by the day! Especially after figuring out I can read Kindle books on my smart phone or computer!)
31 Days to Clean offers not only practical advise on keeping your home, it inspires your mind and heart to action. Each day gives you a Martha challenge (the heart inspection) and a Mary challenge (specific cleaning ideas/tasks). You'll find chapters on:
Confronting laziness
Priorities
Feeling Overwhelmed
The Secret to having Energy
Dealing with Distractions

Not sure about you, but these are real struggles I face on a daily basis.  I'm thankful for my friend Sarah Mae's honesty and vision for this book.  (You are probably familiar with Sarah Mae as one of the founders of The Relevant Conference and creator of Like a Warm Cup of Coffee blog.)

*** You can download your own copy of 31 Days to Clean for 50% off the $4.99 list price with the promo code: quad50 TODAY ONLY– Thank you Sarah Mae for extending your warm generosity to our readers! ***

So what home-keeping task bogs you down the most?
Some of the links used reference an affiliate link.