Sometimes You Have to Choose to Laugh So You Don't Cry, Especially When It Involves A Gas Station Bathroom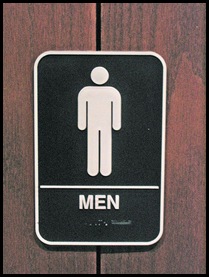 So everyone has a gas station bathroom disaster story, right? 
We have several…
Normally I wouldn't share them, but you know how sometimes you have to choose to laugh instead of cry?  This is totally one of those moments, and the laughing will come easier if I share it with you.  (No worries – no descriptive toilet findings will be part of this post!)
So we found ourselves in a desperate situation the other evening.  Two of the boys were at swim lessons, and I was running errands with the other pair.  I knew we needed to make it to a restroom quickly, but I misjudged and thought we could make it back to the pool in enough time. Instead of stopping at one of the nearby fast food joints, I continued on my route until there was no other public option than a not so lovely gas station. 
We quickly climbed out of the van quickly and rushed into the back of the gas station.  There was a note on the women's bathroom door that read,
"Sorry the light isn't working. We are working on it."
I knocked on the adjacent Men's Restroom, and a rough man's voice told me I was out of luck.  I scurried the boys back into the Women's Restroom, and shut the door behind me.  Well, you can probably guessed what happened.  The room was completely pitch black, and it quickly became apparent that this would not work.  The not so great situation turned uglier and filled with tears and screams of "I can't stay in the DARK! I don't like THIS!"
Thankfully, a few moments later I heard the other bathroom door open and shut.  I knocked on it again and much to my relief there was no answer. If you think a gas station's women's restroom is raunchy, the men's is in a whole other category of grotesque.
However, we made it work.  It was OVER, we made it.
Well, not quite.  The toilet refused to flush.  I waited for the water to stop running, and tried again several times with no success. 
If only I had a piece of paper and a pen, I would have written a note on the door saying,
"The toilet doesn't work either. Work on it."
Instead we used their cheap liquid soap liberally and high tailed it back to the van, leaving the smells, flies, and memories behind us.