Too Cool for School Pool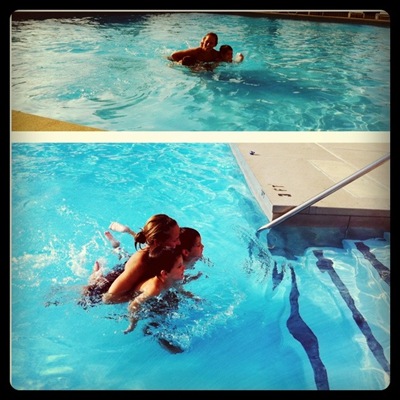 The first "twinzies" (Clark and Brooks) have completed their swim lessons, and the other set start this week. It went WAY better than I could have imagined.  The only tears were the ones that came when we told them they had to get OUT of the pool!
In 6 short sessions, Clark and Brooks can jump into the deep end and swimming to the ladder, go underwater to fetch for diving sticks, take "rhythmic breaths" to the side while they are swimming, and have gained so much confidence in the water.
Much of the credit goes to their FABULOUS instructor, Miss Kaitlin.  The boys were so at ease with her, and she taught them so much in a short amount of time!  Who would have guessed that when she was feeding our 1 month preemies, that she would teach them swim lessons 4 years later?!!
Isaac and Henry can hardly wait for their turn this week, but they've enjoyed the 1 on 1 time or 2 on 2 time, while we've waited for their brothers swim lessons to be over.  Library trips, ice cream, throwing rocks in the lake, the farmer's market, and trips to Lowes have been the highlights.
6 lessons down, 6 lessons to go until they are all officially "too cool for school pool"!