25 Tips to Encourage Kids to Eat Their Veggies: From a Mom Who's Tried Them All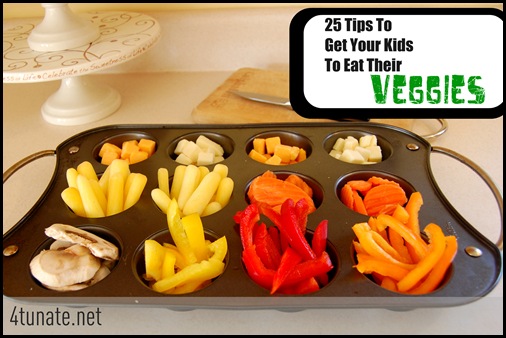 We've all been there – coaxing, encouraging, bribing, battling to get more veggies down our kids' hatches.  My kids certainly aren't the perfect veggie consumers, but we've all made great strides. They are almost always willing to try, they tolerate several varieties, and they even like a handful.
Here's some tips and ideas that have helped encourage healthy veggie eating habits in our house: 
1. If at first you don't succeed… keep on trying! Continue to put veggies that they've refused before on their plates and encouraging them to give them another try.
2. Put veggies in a muffin tin or something appealing and finger friendly.
3. Offer veggies for snack instead of carbs or fillers that will take away from the nutritional value of a meal.
4. Set the example. Kids aren't going to be likely to eat vegetables if they are eating them alone.
5. Start a vegetable or container garden. If kids have a part in growing/caring for what they eat, they are much more likely to consume their "harvest".
6. Experiment with colors – try yellow carrots for a change, or purple cauliflower, or a rainbow assortment.
7. Explain why vegetables are important to their health, and how they are important to their growth and staying well.
8. Offer veggies first, then when they have been eaten offer the rest of the meal.
9. Sneak veggies in to other likeable foods. Examples: spaghetti sauce, smoothies, quesadillas, pizza, sandwich spreads, etc. (The Sneaky Chef has great recipes and ideas.)
10.  Don't knock it until you try it – before they refuse it completely encourage them to try at least one medium sized bite.
11. Don't put the pressure on them of eating it all. Be reasonable, and encourage them to try over finish.
12. Reduce the amount of sugar in their diets.
13. Try painting with vegetables – potatoes, celery stalks, etc. Again, familiarity may be in your favor!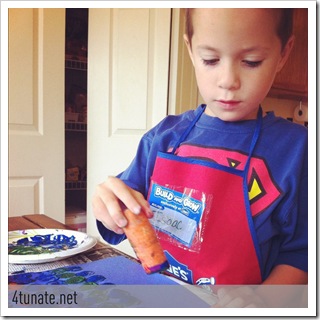 14. Try juicing and smoothies. Often times texture holds kids back from liking vegetables over taste.
15. Play with your veggies. There are some great veggie sets, including these from Melissa and Doug and this IKEA vegetable set that allow your kids to become more familiar with a variety of vegetables.
16. Go grocery shopping and allow them to pick out one new vegetable to try for the week.
17. Visit a farm or a local farmer's market and learn more about growing vegetables.
18. Plant vegetable seeds inside and watch them grow.
19. Make it a game. Roll a dice to see how many bites they have to eat. Make up a veggie rhyming game. Anything to make it fun and not stressful!
20. When I Dip, You Dip, We Dip. Try a variety of dips – hummus, yogurt,  salsa, and guacamole are all great choices.
21. Can the Can. There are more benefits in both taste, nutritional value, and overall appeal  in going with fresh or frozen.
22. Make it portable. Veggies are great for on the go if you plan ahead like with these veggie cups:
23. Involve your kids in making the meal. Again like gardening, if they have ownership in they will be more likely to eat what you've made together. Eating becomes an experience rather than a chore.
24. Make veggies into edible art. Ants on a log, cucumber snakes, and more ideas on my "Getting Kids to Eat Their Veggies" Pinterest Board!
25. Wait it out. If you're child is putting up a fight or having a veggie revolt, it is most likely just a phase. The less you stress, the less likely they will hold out forever. =)
What tips and tricks do YOU have on getting your kids to "veg"?
There are lots more ideas on my Pinterest "Getting Kids to Eat Their Veg" Board(Reminder if you pin one of the Pinterest ideas on this post, please pin the original source.)