5 Simple Ways to Emphasize the True Meaning of Easter with Kids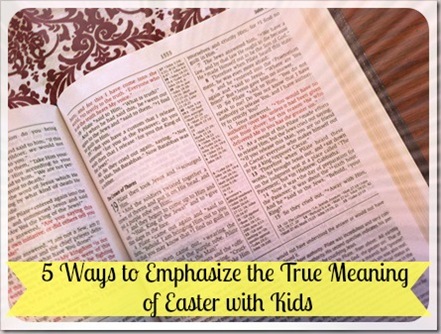 What is it about every American holiday that we have to make it a day about CANDY?  Christmas, Halloween, Valentine's Day, Easter, Flag Day…okay well maybe I'm pushing it with Flag Day but I'm not the only one that feels like it's out of hand, am I? I'm not going all Bah-Humbug over everything non-holy about each holiday, but I think our message is getting muddled especially at Easter.
Easter is the pinnacle day for believers to celebrate Jesus' miraculous resurrection, and sacrifice for our lives so that we might have life– are we treating it with the gratitude and wonder that we should or are we passing it up for plastic eggs and fake grass? More importantly, what message are we passing on to our kids? 
Believe me, I know how distracting candy and all things plastic can be. It doesn't have to become a battle or a stressor. I'm not saying to boycott your in-law's Easter egg hunt, or refuse the family picture opportunity with cute live bunnies. However, we have to continue to bring the meaning home to our children. 
It doesn't have to be complex or craft fair worthy to create a meaningful moment with your children. Yesterday, we read John 19 and 20 from the Bible together, and I was amazed how interested my boys were with the details and how engaged they were with following along. 
Here are 5 Simple Ways to Emphasize the True Meaning of Easter with Your Kids: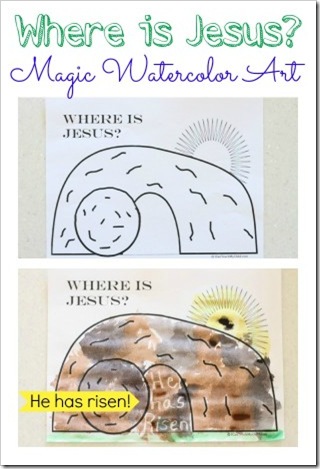 1. I love this magic watercolor art from I Can Teach My Child for little ones.  Great way to impress their hearts with the wonder of the resurrection.
2. Make a resurrection garden like the tutorial on We Are That Family.  What a great reminder to sit at the table this season!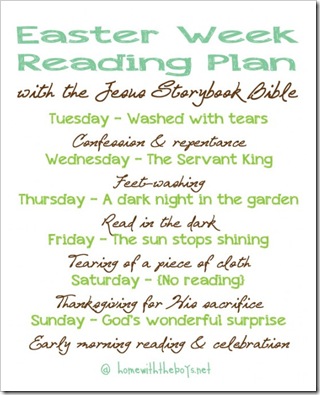 3. Read The Jesus Storybook Bible together with this Easter reading plan from Home with the Boys.  It's definitely not too late – the stories are short enough to read several at a time! Oh and The Jesus Storybook Bible is still only $1.99 for the Kindle edition (the hardcover edition is on sale for $16.49 and with Amazon Prime you still have time to give it as an Easter gift!)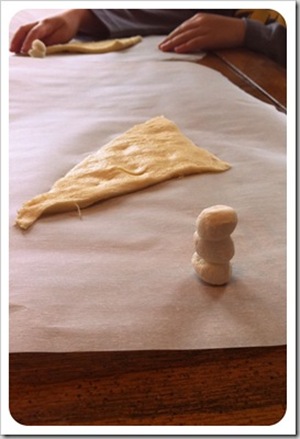 4. Make "Empty Tomb" Resurrection Rolls.  These couldn't be more simple, but the Scripture you read together during this activity is my favorite part.  My biggest tip on this activity is to make it with 3 mini marshmallows (representing the Father, Son, and Holy Spirit).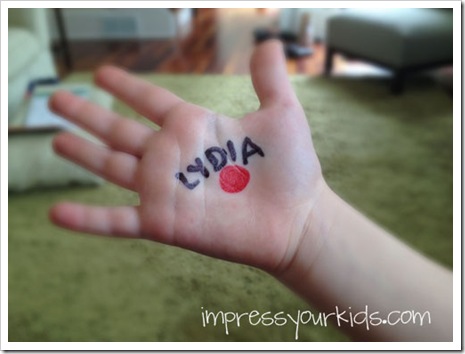 5. And these nail print hands from OhAmanda are a striking reminder for little hands and big hands alike. 
What are some ways YOU make Easter meaningful for your little ones?