30 Day Giving Challenge – Tommy Nelson Giveaway
*Giveaway is now closed.
It's a heavy responsibility as a parent to instill generosity in our children's lives. They watch our actions like hawks. They mimic our responses. They seem to see right through our motives and into our hearts.
However, it's little shining moments like one that transpired today, that gives you hope and motivation to continue to attempt to impress their hearts.
I was feeling under the weather with a sinus infection (again) today, and Brad took the boys on some errands while I rested.  As they were eating cheese roll-ups, Brooks was complaining that he was still hungry. (I wonder how many times a day I hear my children complain about being hungry! These boys are bottomless pits these days!) Meanwhile half of his lunch was left untouched. Brad explained that he should eat the rest of his food, yet he again complained of being hungry a few minutes later.  Again, Brad repeated that he should eat more if he was hungry, but noticed that he had carefully and neatly wrapped a napkin around 1/2 of his roll-up and a chip.  When he asked him about it, he replied, "I'm going to give it to mama so she can feel all better."
**(Excuse me while I try to bring my heart back to solid form after melting all over the place.)**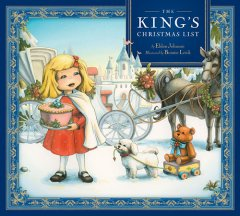 It truly is more "blessed to give than receive"! (Acts 20:35) I love that Tommy Nelson has a book out that goes with this message. The King's Christmas List*
teaches children that the greatest gift of all is the gift of giving through the precious story of a little girl named Emma.  Emma was invited to the King's birthday party, but on the way she learns about giving to those less fortunate.  She wonders what the King will think of her coming without a gift. After meeting the King, Emma discovers she gave the King exactly what he wanted.
Through the brand-new picture book from author Eldon Johnson, children and parents will be reminded of the true meaning of Christmas, and that the greatest gifts we can offer to the Savior are gifts to the least of his brothers and sisters (based on Matthew 25:40). Families can then go online and be directed to notable charities to give their own gift to the King through notable charities like BloodWater Mission and World Vision.
Isn't this a perfect fit for The 30 Day Giving Challenge?
You can preview the pages of The King's Christmas list and see the beautiful story and illustrations for yourself! Tommy Nelson has generously given The 30 Day Giving Challenge Team a copy to donate to the charity of our choice.  In addition they have provided a copy to giveaway plus $40 to donate to the winning family's charity of choice from the book's website. The 30-Day Giving Challenge is all about passing blessings along to others!
* To enter leave a comment about how you instill giving in your own children or others that you influence.
Extra Entries: (Leave a separate comment for each.)
* Subscribe to 4tunate (or let me know you already do)
* Like Tommy Nelson on Facebook or Follow Tommy Nelson on Twitter (or let me know you already do)
This giveaway will end on Friday (11/5) at 9pm EST. The winner will be drawn using Random.org, and notified via email.
There are 9 additional chances to win on the following blogs:

Disclosure: I was provided with a copy of The King's Christmas Gift to review and donate to my local charity. *Notes a link to an affiliate.