30 Day Giving Challenge – Veggie Tales Giveaway
"And now it's time for 'Silly Songs with Larry': the part of the show where Larry comes out and sings a silly song."
(Insert dramatic singing of "Bellybutton", "Water Buffalo", or "Hairbrush Song")
My boys can't get enough of their vegetables when they come in singing cartoon form.  Bob and Larry feel like part of "the fam". The boys know so many of their songs by heart, and we listen (and dance) very regularly to the Veggie Tales station on Pandora.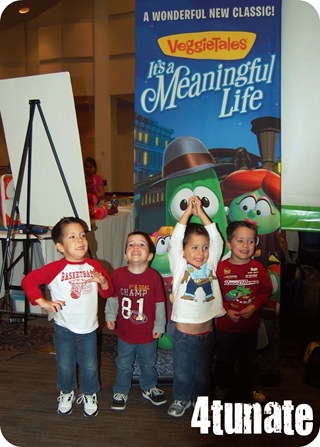 In case you haven't been introduced to Larry the Cucumber, Bob the Tomato, and the whole gang, VeggieTales, created by Big Idea Entertainment, is a Christian animated kids brand that teaches Bible-based lessons to kids in a fun and engaging way. It's one of those rare sorts of entertainment that is enjoyable for kids AND their parents. VeggieTales offers a library of DVDs, music, toys, games, and other wonderful kids products that parents can trust and kids will appreciate!
Shortly after arriving home from Walt Disney World in February, the boys started asking when they could go meet the Veggie Tales. I explained that Bob and Larry didn't run a theme park like Mickey and Minnie and meeting them in real life wouldn't be possible.  We settled on planting a vegetable garden instead. I had no idea at the time they were going to be on tour in our state!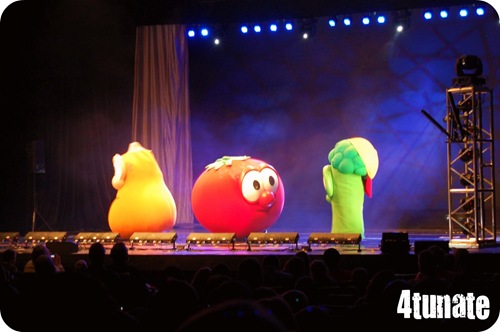 The show was fabulous!  The boys were totally into it, dancing and belting their hearts out to their favorite Veggie tunes. We even considered becoming "Veg Heads" and joining them for the rest of their tour! They might be appearing in a town near you!  See the Veggie Tales Tour Dates to find out! (HUGE Thank you to Big Idea for giving our family the opportunity to attend and for providing this amazing giveaway for our readers!)
VeggieTales is offering a set of 6 DVDs and 1 music CD as part of the 30 Day Giving Challenge. The gift pack includes Saint Nicholas: A Story of Joyful Giving
, Sweetpea Beauty
, Silly Little Thing Called Love
, It's a Meaningful Life
, Pistachio
, Heroes of the Bible 3
, and Bob and Larry Sing the 80's
! I'll be honest, it's very tempting to unwrap these and pop them in our DVD player, but I'll be donating this collection to a local shelter for families of domestic abuse as part of the month long challenge.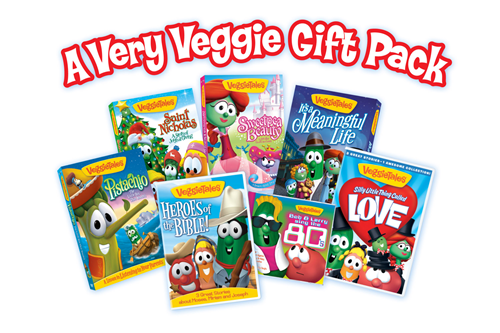 Enter to Win this Veggie Tales Gift Pack by leaving a comment about your favorite Veggie Tales song or video.
(If you are reading this post in your reader or on email you'll need to click over to enter.)
Bonus Entries (leave a comment for each):
~ Like VeggieTales on Facebook and/or on Twitter
~ Like 4tunate on Facebook or suggest 4tunate to 5 of your Facebook friends
Make sure you visit the other 30 Day Giving Challenge team members for more ideas, opportunities, and giveaways:

*Affliliate links to Amazon.com were used in this post.