Financial Goals for 2011: Surviving. Spending. Saving.
 Surviving. Spending. Saving.
As a family with quadruplets, we are often approached with the question of how do we survive financially on one (or sometimes less) income. Everyone's financial means and needs are different, so I can only share what has worked for us personally. Nevertheless,I hope this is helpful to you and your family as you enter a new year with fresh financial goals.
Overall, our financial survival has been because of God's graciousness to our family.  He continues to creatively provide in ways we could not have seen on our own.  Especially since launching our own business, we've come to trust Him more in this area (although we are still growing), as there have been months that we are unsure how we'll make ends meet. He is so faithful in providing us with opportunities, ideas, and giving us strength to persevere.    
Thankfully, we had an emergency savings before Brad lost his job last October.  It's been a huge provision and blessing.  We will never regret being frugal and saving that money back.   Dave Ramsey recommends 3-6 months of your personal expenses set aside for an Emergency Fund in the event of a job loss, extended illness, family situation, etc. I would highly recommend setting aside some of your monthly income for this purpose.
Today I'm going to focus on ways we saved money, at the end of 2010, which I will follow up with ways we could have spent less, and how we plan to live a more frugal lifestyle in 2011.
Ways We Saved in (Late) 2010:
* Meal Planning: This saved money by not eating out as frequently, not wasting ingredients, and planning my grocery store visits with sales and coupons. As an added bonus, it allowed us to eat healthier and be more organized. I meal plan, go through my grocery flier and coupons to make a list, and then shop for 2 weeks worth of meals.

* Coupons: I vamped up my couponing efforts and it's been helping tremendously! I've been saving up to 60% on our grocery bill. I check frugal and deal blogs such as: Money Saving Mom, Bargain Briana, Keeping the Kingdom First, Deal Seeking Mom, The Frugal Find and others before I make my grocery run to cross reference store deals with the coupons I have on hand. It makes time well "spent" on clipping coupons.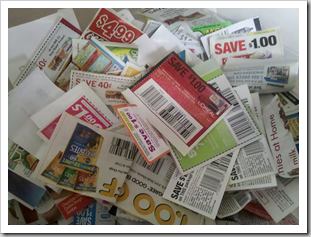 * Staying Out of the Stores: My biggest weakness in spending is "deals".  If I'm in Target, I'm probably going to spend $30-50 minimum because of the dollar spot, kids clothes clearance, organizing tools, food, etc.  Some of my other favorite deal spots include: Marshalls, HomeGoods, and Hobby Lobby. I rarely, and I mean rarely visit a mall.  I find that staying OUT of the stores, not going for leisure, helps me not spend.  I'm not tempted by a deal if I can't see it.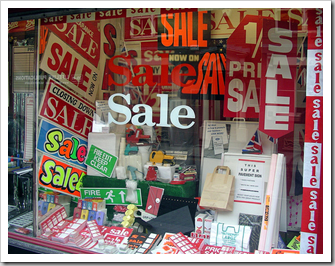 * Online Deals: I saved BIG on online deals this season with sites like Groupon and Living Social. The matching fleeces the boys wore on Christmas Eve?  The $25 for $50 at Gap stores Groupon. Our 8 Year Anniversary Dinner?  $35 for $70 at the upscale restaurant where we were engaged via Living Social. In case you haven't heard of sites like Groupon, Living Social (they give you $5 for signing up), or Mamapedia Sweet Deals, they are deal of the day sites that offer highly reduced coupons for a variety of things: magazine subscriptions, restaurants, family activities, etc. (You can sign up by following the links.)
I also watched for killer Amazon Deals
to snag extra savings for things on my list. For instance, I bought Toy Story 3
for only $3.99 after a $5 video credit offer and the already reduced price.
In addition, I used Swagbucks to purchase several Christmas gifts. If you haven't heard of Swagbucks, it's a way to earn points for searching the internet.  Points = Free Prizes like Amazon Gift Cards.  (Example: 450 points = a $5 Amazon Gift Card). It takes some patience, but it's free money, people!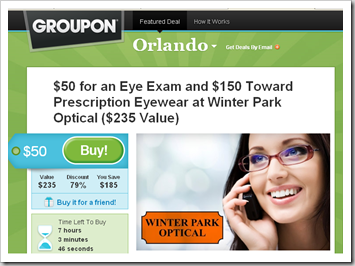 What was YOUR biggest deal or money saving success of 2010? 

* Some links in this post may be to an affiliate or referral link to help our money saving goals