Planting a Square Foot Vegetable Garden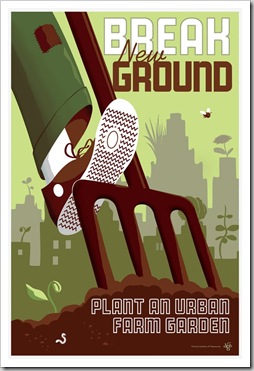 Since I last posted about planning a Square Foot Garden, I've "fielded" so many questions about our little backyard garden both in person and via The Interwebz. People, I'm a NOVICE. (Read: I don't really know what I'm doing.)
However, I'm happy to share the little that I know, and most of that is just regurgitated from the All New Square Foot Gardening* book (which is worth your 11 dollars and 99 cents, in my opinion)
and what we learned last year from our first attempt.
It's really more simple than it sounds. If you are just starting out, I would recommend trying out a 4'x4' raised bed with vegetables that are easy to grow locally and that your family already eats. Last year we had great beginners luck with Green Beans, Cucumbers, Tomatoes, and Sugar Snap Peas. If you're not quite ready for a full garden, try growing container plants on your back patio or a few plants into your current landscaping.
Since many of you had questions about what I was planting and how I was fitting it into our space, I thought I'd just show you our planting diagram.  The number in the parenthesis represents the number of seeds or transplants per square.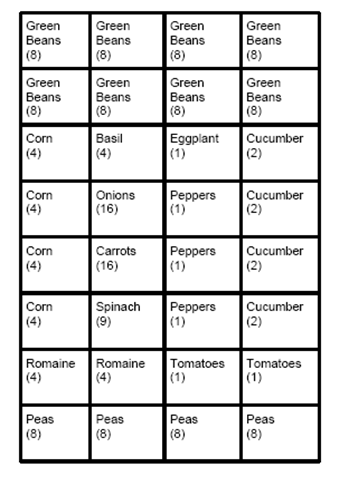 The only plants or seeds in the ground thus far are the peas, romaine, spinach, onions, and carrots.  The rest will have to wait until after the frost are long gone in Indiana. (Keep in mind that I planted these with my ultra-high tech gardening tool – which has since been replace by a Target Dollar Spot trowel and cultivator.)
Some of the spring squares (spinach, romaine, etc) will be replaced after they have harvested with more heat friendly plants. The spring squares can also be replanted in the fall after the temperatures begin to cool. Square Foot Gardening is all about efficiently using your space, and getting the most produce for the duration of the gardening season.
Do YOU have a green thumb?  What do YOU like to grow?

Top Right Image: Poster Print from joeseppi on etsy
* Links to Amazon.com Affiliate