Roomies to Be or Not to Be…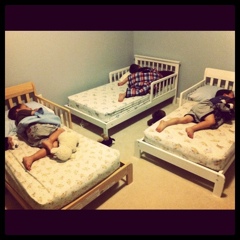 While Clark was sick and we were attempting once again to keep the others from coming down with it, Brooks had the privilege of sleeping in Isaac and Henry's room for a couple of nights.
It made us miss the days of them all sleeping in one room, and hopeful that we can execute that again sometime in the near future. (Bunk beds perhaps?)
For now many nights are difficult enough to settle down two in one room at bedtime. And they are napping better at four years old than they did at two, so I hesitate to make any changes in case it would sabotage our sacred nap time.
So I'm curious for those of you with multiples or larger families that room share… How do you arrange several in one room and enforce bedtime over a frat party preschool style every night?
Cannot wait to learn from your wisdom!