Who Needs a Get Well Card When You Have This…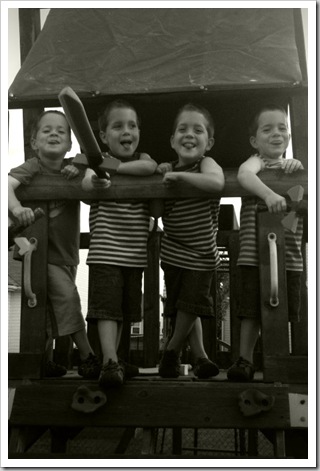 One of my biggest worries of going through with my surgery was how the boys would handle all of the changes and time away from their routine/surroundings. I'm so pleased with how they have adjusted to me being out of commission.  They honestly seem to "get it".  They have been so patient with my recovery and have been so gentle with me. They have been flexible to stay overnight with family, play with friends at the park, having people in our home, etc.  I think each day has been a new adventure for them.
Instead of whining and complaining about me not being able to help them, they've said things like:
"Mama, you can't run right now. You can just walk, but SOON you can run like me!"

"Mama, would you like my stuffed animal?" "That'll feel you better."

"I can't wait til you're better, Mom." "Then you can tuck me in."
So Precious.
They have grown up soooooo much in the last two weeks.  This recovery is starting to drag, but I'm so thankful that I have 4 little entertainers who are patiently waiting for me to be back on my feet for good!
Thank you for continuing to love on our family!