T-H-A-N-K-F-U-L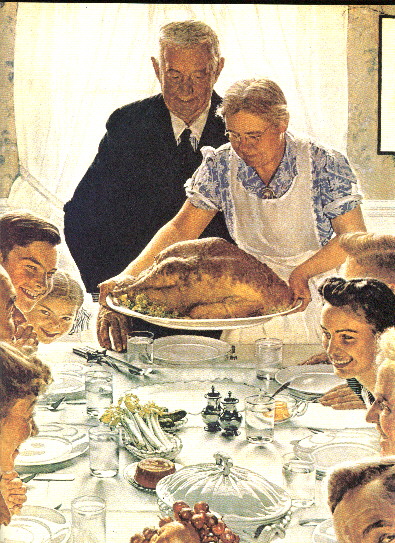 How many of you remember this famous writing assignment given by teachers nationwide through the years, "This Thanksgiving I am Thankful For…."? This was an all too easy assignment for me as I quickly jotted down my top things I was grateful for and shared them with my class. This Thanksgiving I'm actually relieved to not have this particular homework assignment – not because I'm not thankful, rather on the contrary, I'm literally overwhelmed with gratefulness and such a task would be entirely too lengthy.
In fact, it's difficult to write a blog post for this Thanksgiving, because expressing my gratitude always seems inadequate. I don't really need a holiday to help me reflect on what I need to be thankful for – it surrounds me. Nevertheless, I know I take many of things for granted on a daily basis – guilty. Ultimately we are grateful for God's forgiveness, grace, and mercy in sending His Son, Jesus Christ, for our salvation. He's our only hope!
I decided after reading a friend's blog (thanks, Em for the idea) to do an acrostic to help me highlight just a FEW(not an exhaustive list by any means) on my list this year…….
T – oday! Each day really is a gift. Every night, Brad and I have a routine of going into the boys room before we go to bed and watching them sleep for a few moments. It's such a precious time. Everyday this brings us to thankfulness.
H – elpers! How could have we survived without you? These boys are chunks today because you helped us feed them! A special thank you to: Tami, Kaitlin, Jamie, Joan, Cindy, Christianne, Sally, Moms, Sheri, Katrina, Cindy H, Carolyn, Grammie Pammie, Kathy H., Sharon G, Natalie, Sarah, Caileigh, and so many other faithful volunteers.
A – merica! The Land of the Free. After all, it's what this holiday is about…..
N -ights Out! It's always a treat to get a date or even an errand run with my sweetie. Building and maintaining our relationship has been key to getting through these last months. I'm grateful for a husband who still likes to date his wife and treat her as his prize.
K -indness! We've been treated kindly by so many around us – our church family, our pediatrician and nurse, co-workers and former co-workers, even strangers (including many of you blog readers) who have supported and encouraged us in a variety of ways.
F -amily! You have been a true provision this year. We thank God for each of you!
U – niqueness! I love how we have quadruplets, yet God has created them as unique individuals! Their personalities are revealed a little more each day. They cry, smile, laugh, eat, sleep, play, even poop differently!

L – ife! We have been given four precious lives and the privilege of watching them grow. Henry, Isaac, Clark, and Brooks are a GIFT. Thanks be to our great God for sparing their lives (and my own).
Tomorrow is actually another routine day for us (we'll be getting together with family over the weekend). The boys will be feeding at 9am and every 4 hours after…..yet everyday is so much more than "ordinary".