The 4tunate Holiday Gift Guide: 1-2 Years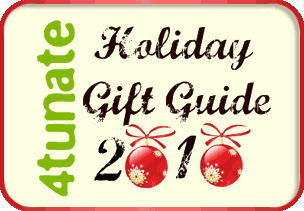 I decided to "wrap up" some of our favorite gifts from each stage into a gift guide for you this Christmas.  I'll be sharing some tried and true ideas from each stage that we have experienced, as well as some ideas for the upcoming year. Perhaps OUR experience with quadruplets can be an advantage to YOU as a shopper.  Before I begin let's get the disclaimer out of the way:
Disclaimer: 1. None of these products were given as a promotional opportunity, nor did I receive any $ or compensation to write these suggested gift ideas.  2. These are purely my opinions.  They are things that each of my 4 boys have enjoyed, which I think speaks highly of a product if is well-liked by all, and proves durable under the extra use/abuse of quadruplets. 3. These products link to Amazon.com, as an affiliate link.
Now that we got that out of the way, let's get on to the good stuff!
1. The Jesus Storybook Bible: Every Story Whispers His Name
($9.92) 
My all-time favorite read aloud!  Each story paints a picture of the Great Rescuer with vivid illustrations to go with the passage.  Obviously, it can be for ages much older than this stage, but it's a great time to begin reading it aloud.  I wrote more about how much I love this treasure of a book in this post.
2.Little Tikes Cozy Coupe
  ($47.99)
Hands down THE MOST fought over toy we own.  It had them at first beep.  It's a classic for a reason!
3.Made For Mom Snack Trap, 3 Pack
($9.99)
I would love to hug the mom behind this invention.  What a sanity saver!  The lid flaps allow little hands to reach in, but keeps snacks contained if they are dropped or turned upside down. We use them for breakfast on the go all the time!
4. Melissa & Doug Deluxe Mix 'n Match Peg Puzzle Bundle, Pack of Three
($17.14)
I honestly haven't found a Melissa and Doug product that I haven't liked.  Their quality is top-notch and they promote learning naturally through imagination and creativity.
5. Fisher-Price Little People Animal Sounds Farm
($29.00)
The interactive version of the original Fisher-Price Barn (we have an older version) is sure to be a hot-seller this season.  Our boys love to play farm and act out each of the animals as they put them in and out of the doors and rooms in the barn.
6. Crayola 3ct. Washable All-In–One Paint
($12.45)
I love how these are easy for toddler hands to hold and allow a great introduction to painting without the mess.  Smart and washable – a great combination!
7.Children's Growth Chart
(under $20)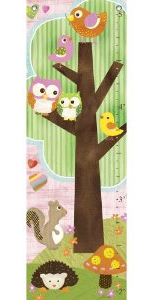 Now that your little one is upright, it's a fun time to start charting their unbelievable growth over the next few years. There's lots of choices to coordinate with your nursery theme, and it's a great keepsake.
8. Baby Einstein: Baby MacDonald – A Day on the Farm
($14.99)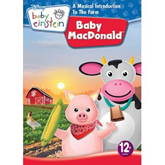 DVDs weren't appealing to my boys during this stage with the exception of this one.  This is the best of the Baby Einstein collection. It's visually engaging, and it's also enjoyable to watch as a parent.
9.Little Tikes Climb and Slide Castle
($49.00)
It was love at first slide for our boys and the Little Tykes Climb and Slide Castle. Great for indoor or outdoor play and for burning off lots of energy!
10. KidCo PeaPod Portable Self-Inflating Travel Bed
($64.79)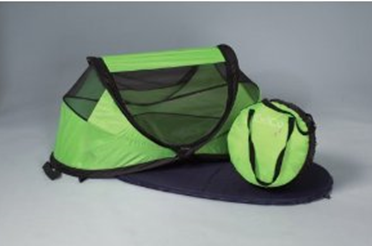 If you are planning on doing any travelling with your toddler (even if it's just to grandmas), I would highly recommend not wasting your money, space, and effort on a Pack and Play and instead go with the KidCo PeaPod.  We are so thankful for a triplet mom who told us about these awesome travel beds.  They collapse down to the size of a deflated beach ball, and take up very little space unfolded.  We've slept all four of our boys in very small spaces.  However, they have room to spread out inside the tent, and an air mattress to provide extra comfort.  We cover the mattress with their own crib sheets, so it seems more familiar at night.   We should be using these tents comfortably until the boys are around 6 years old!
I'd love to hear your suggestions for this age group.  What are some things that your kids have really enjoyed at this stage?