The 4tunate Holiday Gift Guide: 2 –3 Years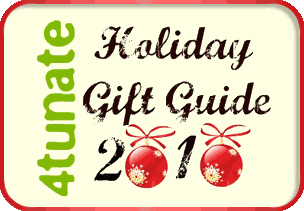 I decided to "wrap up" some of our favorite gifts from each stage into a gift guide for you this Christmas.  I'll be sharing some tried and true ideas from each stage that we have experienced, as well as some ideas for the upcoming year. Perhaps OUR experience with quadruplets can be an advantage to YOU as a shopper.  Before I begin let's get the disclaimer out of the way:
Disclaimer: 1. None of these products were given as a promotional opportunity, nor did I receive any $ or compensation to write these suggested gift ideas.  2. These are purely my opinions.   3. These products link to Amazon, as an affiliate link.
Now that we got that out of the way, let's get on to the good stuff!
**A lot of the list prices are dropping daily, so the actual price may be lower than the price listed in parenthesis.**
1. Fisher-Price Doodle Pro
($24.95)
This is on our Christmas list this year!  Easy to take along, and the possibilities are endless with the wipe away "magic" screen.
2.Little Tikes Shopping Cart
($26.99)
Our plastic basic shopping cart (Not Little Tikes) is loosing it's wheels from all of its wear. Who says shopping isn't for boys?  Of course they stack it full of cars, trucks, balls, etc. but they love filling it nonetheless…Anything that pushes and has wheels (dump trucks, ride on toys, etc) is a great gift in my opinion
3. Melissa & Doug Wooden Blocks
($44.37)
The oldies but goodies seem to be a winner every time.  There's great imagination in store with this set of solid wood building set.
4.Click, Clack, Moo: Cows That Type
($9.93)
This book is a crowd favorite.  The boys know it by heart and act it out. There's plenty of humor for young and old alike! 
5.Fisher-Price Rock, Roll 'N Ride Trike  ($49.99)
I really love the functionality and how this product grows with your child's size and abilities. It should be a long-lasting long-loving toy for all of our boys to enjoy.  They can almost reach the pedals now!
6. LifeStyle Dream Kitchen by Step2  ($163.49)
Kitchens are fun for both girls and boys.  Although we don't own one, it's one of their favorite things to play with in the church nursery.  It's so fun to watch them pretend to prepare and eat meals. It's a great group gift for families with more than one child! 
7.Fisher-Price Medical Kit
($11.54)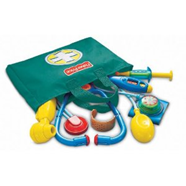 Hopefully this toy will lessens fear of the doctor and spark great imaginative play!  It's another suggestion on our Christmas list for the grandmas.
8.LeapFrog Toys (Prices Vary Depending on Product)
We are somewhat new to the world of LeapFrog, but their products have been highly recommended by family and friends.  From their Magnetic Fridge Sets, to their award-winning Tag Reading System, to their DVDs – they all look like fantastic educational toys!
9.Play-Doh Case of Colors
($6.75)
I'll admit it I was scared to crack open a can of Play-Doh too, especially with the "creative potential" of quadruplets.  However, after laying down the ground rules, this provided a whole hour of entertainment! There's something therapeutic and nostalgic about playing Play-Doh with your children.
10.Melissa & Doug Pattern Blocks and Boards
($13.72)
I remember loving these pattern boards with the bright shapes and designs!  Bonus, it helps develop shape recognition, colors, and spatial relationships. 
What did I miss? What additional suggestions do you have for this list?  What have you liked/disliked for this age group?