Don't Blink: Q&A with Jessica Turner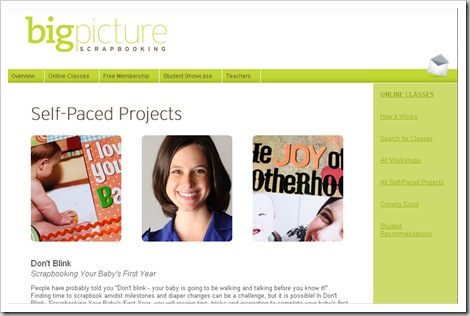 Today, I'm so excited to introduce you to my friend Jessica Turner.  Many of you may be familiar with her from The Mom Creative or from Bloom, but regardless, go give her some "bloggy hugs" today and thank her for hanging out here today.  She has been an encouragement and inspiration in my life and I look forward to getting to know her even better in the years to come. 
Jess is super talented chick.  Scrapbooking is one of her fortes, and way she captures her little guy, Elias, makes me want to pick up my camera more! How many times did you hear the words, "Don't Blink!" used as advise for your first year of motherhood?  Jessica has found a way to capture the first year memories in a quick and affordable format.  She'll explain more in this Q & A along with some of her insights on motherhood:
1. Jess, I've been devoted to your blog The Mom Creative for a while now. I also had the blessing of meeting you in person at BlissDom. But for those who might not be acquainted with you, tell us a little about your family and how you started blogging.
First off, thanks for inviting me to do this Q&A! I'm so happy to be here. I started my blog, The Mom Creative, in 2006 (though it was then called The Life, Faith and Creativity of Jessica Turner). My family lives in Wisconsin and my husband's family lives in Maryland, so I thought it would be a fun way to stay connected. I also was really getting into scrapbooking and saw a lot of scrapbookers blogging, so I got on the bandwagon! 🙂
In the fall of 2007 I got pregnant and I guess became a "mommy blogger." My son, Elias, turns two on July 12.

The Mom Creative's tagline is "a little bit of this and that", which accurately summarizes my blog. One day I blog about scrapbooking, the next day I blog about working motherhood and the next day I share a product giveaway. It really is a bit of everything!
2. You are one busy mama – working in the PR field, blogging, co-founder of Bloom, (in)courage contributor, wife to an author, mama to an active toddler – How do you find time for your "healthy obsession" of scrapbooking?  What's your secret to striking a balance?
Balance is something we all strive for, isn't it? I believe that you make time for what is important to you and chronicling my family's stories is incredibly important to me. So, I sometimes (okay, often) forgo dusting or scrubbing my kitchen floor to scrapbook. When my son is grown, I believe that he will be more thankful for my scrapbooks than that the house he grew up in was spotless. I also hope that I am teaching him, through scrapbooking, that his life and story matters.
3. What advice would you give to a mom like me, who's first year of motherhoood is starting to be a distant memory?  Where's a good starting place? 
I would go through your photos from your boys' first year. What are the 10-20 that you love the most? Why do you love them? What memories do they conjure up? What would you want them to know about those photos? Write those memories down and put your writings with the photos – maybe in a simple photo album. There! You have created a memory book your kids will love! Remember, your kids will not remember their baby years, making the memories you record even more valuable.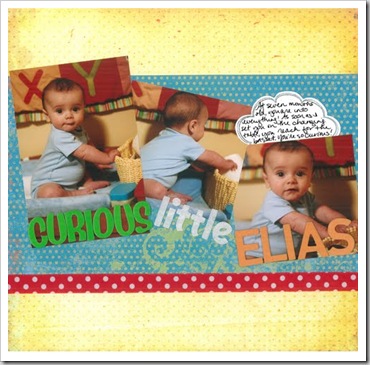 4. Tell us about your scrapbooking class and inspiring resource "Don't Blink" and why documenting Elias' first year was so meaningful to you as a mother. 
I choose to chronicle memories through paper scrapbooking. When Elias was born, people told me, "Don't blink! Elias is going to grow so fast!" I took that advice to heart and was constantly photographing the ordinary (diaper changes, sitting in the swing, playing on the floor) and the extraordinary (first bath, first tooth, first steps). I didn't have time to make elaborate scrapbook pages (like you often see in magazines), but I did squeeze in 30 minutes here and there to create simple, classic pages that tell Elias's story.
I created the Big Picture Scrapbooking class Don't Blink as a resource for moms who want to scrapbook their child's first year, but they don't know quite where to begin. The class is self-paced and includes loads of tips for how to create simple, meaningful pages in 15-30 minutes, a large gallery, a list of layout ideas and more. Many moms have written that this class inspired them to get their child's first year documented, which is so cool to me!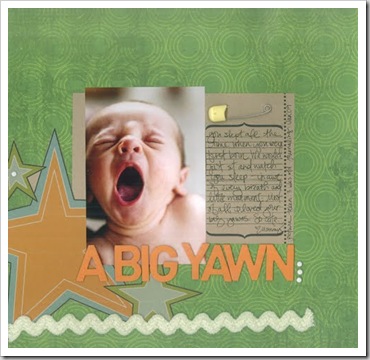 5. Give us the details of how we can sign up for "Don't Blink"….
To sign up for Don't Blink, click here. The class is normally $10, but use the code blogblink to get 20% off. You will then be able to download all the class resources immediately, or refer back to the classroom whenever you have time. I really hope many of you will take the leap and sign up for the class. I believe you will enjoy it and your child will thank you.
*Disclaimer: This coupon only applies to the Don't Blink Self-Paced class; coupon does not apply towards other Self-Paced Projects, Workshops or Gift Certificates. Good for one time use, per student. Expires December 20th, 2010 at 10pm PST. Cannot be combined with any other offer. Coupon must be entered in the "Promo Code" box during checkout and press "apply" button; discount will be applied immediately. Not applicable towards previous purchases. Other terms and restrictions may apply. (PS Jessica is a friend, and is not paying me to promote her class.  I love helpin' another mama out!)
BONUS!
Jessica is offering two people the opportunity to take the class for FREE! To enter, simply leave a comment telling me your thoughts on scrapbooking the first year.
I will pick a winner randomly on Monday, July 12th.
*Both winners will receive a unique code to enter at checkout to receive the free class. The winners can sign up for the class until December 20, but once the class is in their account they can start it at any time.