Man Camp
I want to support my wife in all of her passions and pursuits.  It gives me tremendous joy to give her the opportunity to go do something SHE enjoys.  So when General Mills and the Betty Crocker team invited Jen to join them for their blogging event "Baking with Betty", I really encouraged her to go.  Since I am working at home now, I have the unique ability to volunteer my time so that she can take advantage of these sorts of opportunities.
So what does a dad do by himself with 4 little boys that are full of energy for 36 hours?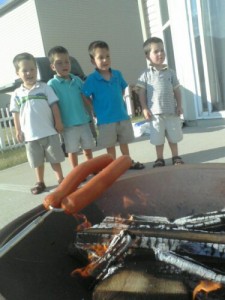 CAMPING!
Our itinerary:
– Grocery Run (hot dogs, smores, other unhealthy snacks)
– Build Fire, don't burn down house
– Roast Dogs, make smores, eat cookies
– Pitch Tents, blow up mattresses
– Sleep under a full moon!
?Ok, so I am not about to pack them up by myself and head for the woods, but we did have our very first camping experience.  I consider it a preview of many camping and fishing trips to come.
Our grass was crispy brown at the time, so I did have to water everything down before I struck the first match, but we built a roaring fire that the boys really enjoyed.  It gave me a great opportunity to talk to them about fire safety.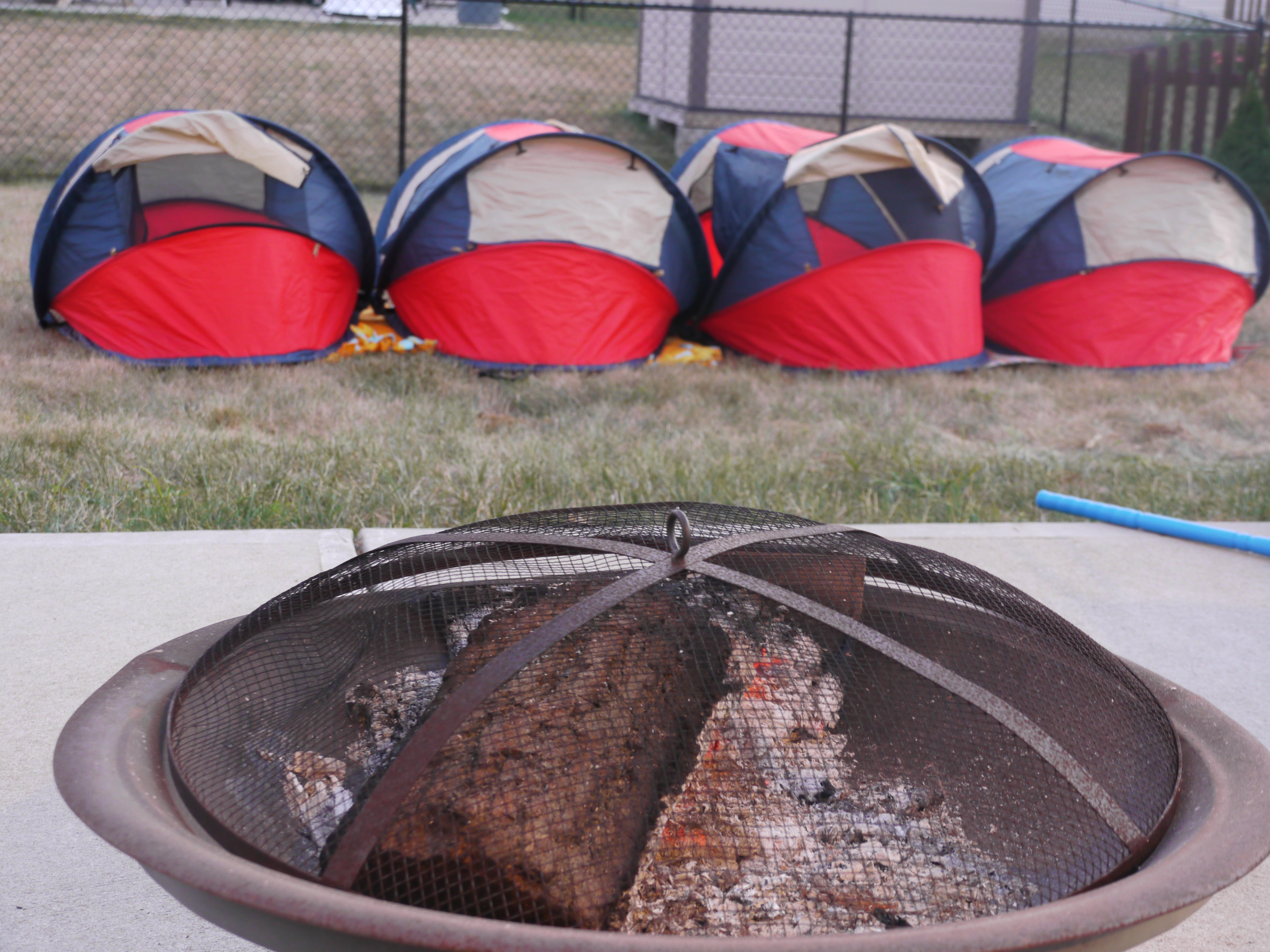 It was perfect weather for camping.  Once it was dark, the boys all cheerfully climbed into their tents without protest (much to my surprise).  When I was tucking him in, Brooks looked at me very seriously and said, "Daddy, the birds no get in my tent when it's dark outside?"  I said, "Birds?  No buddy, no birds are going to get in your tent tonight."  He just smiled and put his thumb in his mouth, ready to drift off to sleep.
I was amazed, after 15 minutes of chatter, the back yard grew silent.  All four of my boys were sleeping outside for the first time!  It was this daddy's dream come true until…..the swarm descended.  You see, we have individual travel tents*
for the boys because we use them when we are on the road with the boys.  We do not yet have an adult tent, so I figured I would sleep on an air mattress under the stars.  That plan was going well until the dive bombing mosquitoes attacked at midnight.  I finally lifted each sleeping boy from his tent and retreated to the house.  My mission was still mostly accomplished, but I am going to have to find a tent for next time.
Man Camp was a success, but we were all 5 very glad to see mamma again.  Stay tuned, I think there will be many outdoor adventures to come!
QuatroDaddy
* Links to Amazon Affiliate