The Neverending Balancing Act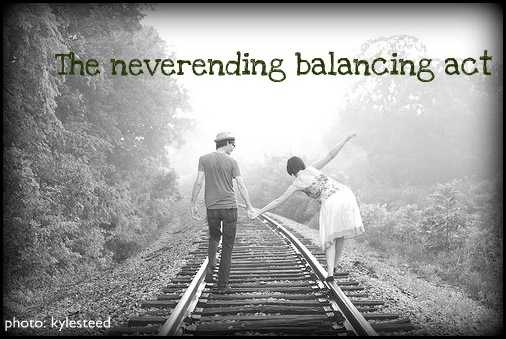 On Saturday I spoke to a small group of bloggers at Blog Indiana about "Balancing Blogging and Bedlam".  It was a great opportunity for me to search my heart, my motives, and my priorities, while I prepared my talk.  Balance is something we ALL struggle with, isn't it?  Whether it's work/family life/leisure/being a student/faith/friendships/ministry/serving others/blogging…it's a lot to juggle everyday.
Does balance even exist?  Perhaps not.  After all, if everything was perfectly balanced, wouldn't that mean that we were just doing "okay" in each category in life?  I don't know about you, but I don't like being average.  Average is boring. I'm not satisfied with getting a "C" in every area of life. I like to do things well – to my best ability. 
So what does that mean in my daily life? 
Can I excel at everything?  Nope.
Can I meet everyone's expectations and needs? Probably not. 
Can I swing it all?  Not so much.
Does that make me a failure? Maybe not.
I think it all comes down to my priorities, versus my efforts to balance it all. What really truly matters in my life?  Is God being glorified in my life?  Is He my #1?  Does everything fall in place after my faith?
These are the things I've been working through this week.  Thanks for your patience with me, as I re-evaluate where blogging falls in my priorities.  Blogging is something I truly enjoy.  It's a way for me to connect with others, a way for us to remember this unique journey with quadruplets, a creative outlet to contribute to our family's financial needs, and its led to so many other wonderful opportunities.
I'm thankful for this outlet, and I'm thankful for your constant encouragement.  Thank you for understanding, for listening through the computer screen, and for your constant love for our family. 
I'll return shortly. And hopefully, I'll be better for stepping back, catching up, and re-starting.