Aquamarine Inspiration
We finally found time to paint Brooks and Clarks' room… make that Brad painted and I admired. I'm better at the color picking than the actual grunt work of painting. My mom and dad took Henry and Clark, in order for us to get the task completed.  It's amazing what you can accomplish with "twins" when you are used to double the load. 

We settled on this blue-green color, Spearmint by Sherwin Williams.  Both Brooks and Clark requested a green room.  So funny how they are little people with distinct opinions these days.
I love the way it turned out.  It's fresh, calming, bright, and cheery.
However, my greatest dilemma has been finding bedding and decor to go with this great aquamarine color! You all were such a help when we redecorated Isaac and Henry's room, I thought you might have some swell suggestions for this room as well. 
My biggest obstacle so far has been bedding, our toddler beds take regular crib sheets, and most crib bedding is unfortunately too baby for the little dudes.  The best I've come up with is this adorable numbers quilted duvet set from IKEA.  It's twin size, so I'm thinking it might work? It's super cute and the price is right at $15 for the set!  What do ya think?
(Update: Looks like this pattern is no longer available at Ikea.  Strike out #7!)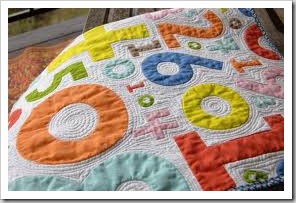 Any suggestions for accent colors, window treatments, decor, or inspirational ideas (on a tight budget) are WELCOME! 
QuatroMama