Cranberry Macadamia Rice Krispies on a Stick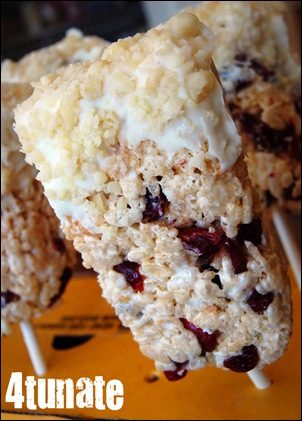 The super creative women at The Motherhood asked me to team up with Rice Krispies to create a Rice Krispies Treats® creation. Our theme was "Back to School" and the recipe had to contain either a fruit or a nut.  Each of the 10 selected bloggers worked together to form a sentence with our secret words over Twitter.  We came up with "Make Your Rice Krispies Recipe An After School Conversation Starter".
As you know there's LOTS of conversations going on in our home and after my recent baking trip, my wheels were turning with ideas.  Here's what you'll need to recreate our Cranberry Macadamia Rice Krispies on a Stick creation.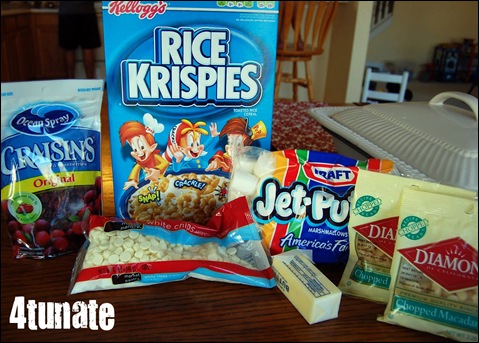 3 tablespoons   butter or margarine
4 cups miniature marshmallows
6 cups  Rice Krispies®
1 package of white chocolate chips
1 cup of dried cranberries
1 cup of finely chopped Macadamia nuts
1 tablespoon of vegetable oil

1. In large saucepan melt butter over low heat. Add marshmallows and stir until completely melted. Remove from heat.
2. In separate bowl mix cereal and dried cranberries.
3. Add Rice Krispies mixture to melted butter and marshmallows.  Stir well. (Work those arm muscles!)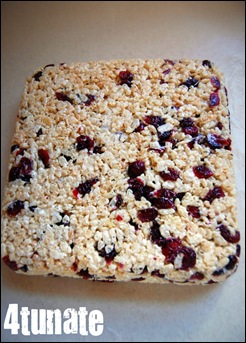 4. Using buttered spatula or wax paper evenly press mixture into 13 x 9 x 2-inch pan coated with cooking spray. Cool. Cut into 2-inch squares. (I recommend trying this size, as my 8×8 pan proved to be too top heavy for the sticks.)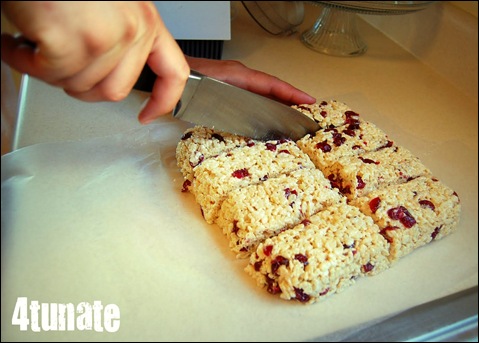 5. Insert cookie stick (I found these at my local craft store) and stick in the freezer to harden for 10-15 minutes. (You might try adding a little melted chocolate to the end of the stick to help it hold.)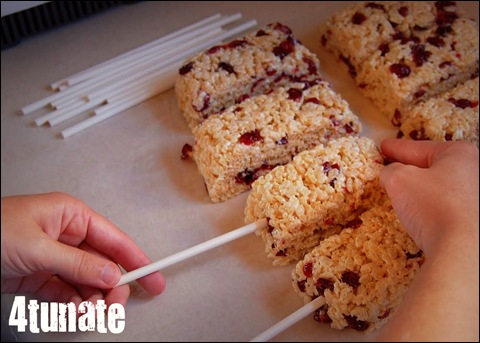 6. Melt white chocolate chips and oil in double broiler.
7. Remove treats from freezer and dip top third into melted white chocolate. Coat with chopped macadamia nuts.
8. Allow to cool upright or by placing on a cookie sheet. (You might even want to throw them back in the freezer for a few minutes.) Or if you happen to find a school bus filled with apples, remove the apples and poke holes in the roof to display.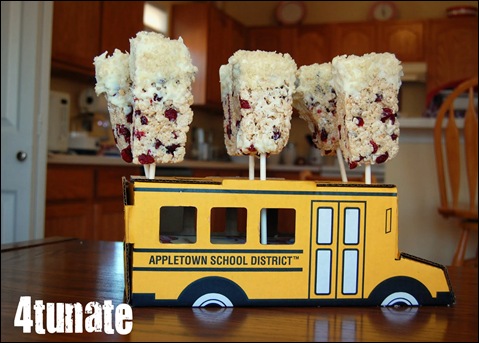 9. Step back and admire your awesome creation.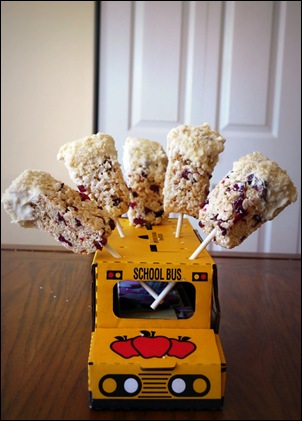 10. Strike up an after school conversation while snacking on these yummy fruity/nutty treats!
Perhaps talking about what happened on the bus?  Or how to keep from being too "nutty" during class?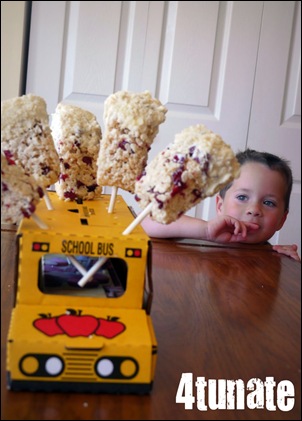 They won't be able to resist them…or YOU!
QuatroMama
Special thanks to The Motherhood and Rice Krispies for inviting me to participate in this promotional campaign, providing the ingredients needed to complete this recipe, and compensating my time and creative efforts. Have you followed Rice Krispies on Facebook?  They'll soon announce the winning recipe!