Fall Cleaning: Kid's Closet Organizing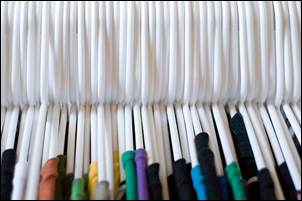 I think I altogether missed Spring Cleaning, so yesterday commenced "Fall Cleaning". (Yet to be determined how much more I accomplish.)
Oh how I wish I would have taken a "Before" picture to show you the dramatic change in the quads' closet, but it was one of those daily tasks that turned into an all day project.  You have those too, right?  I was simply putting away about 4 loads of the boys laundry, when I decided to clean out a few stuffed drawers… 
Next thing I know, I'm going through EVERY SINGLE ITEM of quad clothing, making piles, pitching things left and right, sorting like a crazy woman, and making Isaac and Henry's room an absolute disaster in the process. 
(Confession: My boys watched more TV this morning than they typically do in a week.)
The outcome was worth it! (Pardon the phone pics, but you'll get the idea!)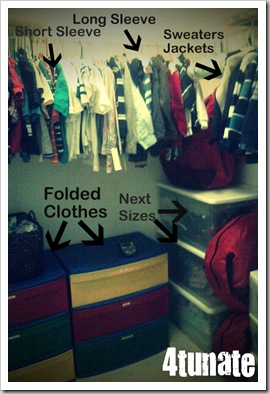 All of the upcoming fall/winter clothing have been sorted, folded, and hung.  The upcoming sizes (I love to buy ahead at garage sales and during end of the season clearance) are sorted, labeled, and stored. All of the outgrown still in good condition clothes?  Well, that remains a work in process.  But they are out of the closet/drawers and out of sight for now!
In the meantime, I cleaned out and reorganized the closet (with some help from my favorite teammate), which gave me enough room to bring the multi-colored drawers and other clothing storage in to the closet, instead of cluttering their room. 
I labeled everything in the process (which comes in handy when we have someone watching the boys so they know where to find things).
(Yet Another Confession: I have a slight addition to our label maker. See?)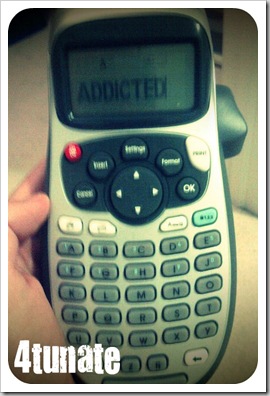 What a chore, but what an accomplishment! 
Kid's Closet Organizing Complete!
I know this is a task that is overwhelming for most moms, not just mothers of multiples, so I'm interested to hear how you keep up!
Have you switched out seasonal clothing yet?  What's your system for keeping it all organized and sorted?  What are your closet organization tips? AND what do you do with your "leftovers"? 
QuatroMama
Top Photo Credit: Brittney Bush
This post is linked to Organizing Made Fun Link Up