30 Day Giving Challenge – Dayspring Giveaway

If only I could enter my own giveaway!  Can I just share with you briefly how much I adore DaySpring? They are simply lovely.  Their products are incredible quality, they have an amazing inventory, and the people behind this company – genuine!  DaySpring loves helping people share their heart and God's love with messages of hope and encouragement.
I've had the opportunity to meet several people who work for DaySpring through blogging and recently at the Relevant Conference, and I can honestly say they are the real deal.  If you haven't already checked out their blog, (in)courage, I highly "incourage" you to check it out camp out there.  I have the privilege of calling many of their writers "friends" and I guarantee you're heart will be blessed by their words.
DaySpring graciously offered these 3 products for me to donate personally to my church or local charity of choice as part of the 30 Day Giving Challenge.  Trust me, they are even more stunning in person.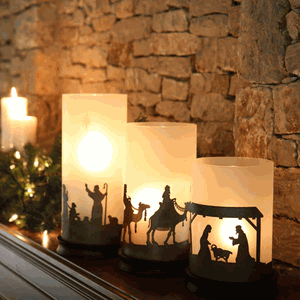 Nativity Hurricane Candle Holder Trio
"Decorate with meaning and illuminate your home with this beautiful trio of nativity silhouettes depicting the first Christmas. The set of three frosted hurricane luminaries are placed on wood bases and circled with metal silhouettes of the holy family, three wisemen and shepherds."
Inscription: "For unto you is born this day in the city of David a Saviour, which is Christ the Lord." Luke 2:11
(One of my favorite Christmas decorations of all time!)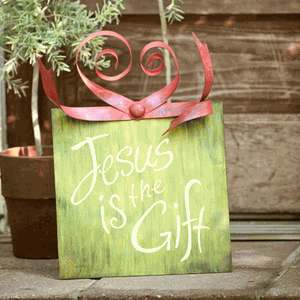 Jesus is the Gift – Metal Table Top or Yard Decor
Welcome guests with this versatile metal sign with option to use easel back or stake that proclaims the message that Jesus is the Gift. Exclusively from DaySpring, this unique Christmas decoration design combines rustic style with a touch of whimsy and will be inviting on any mantle, table or wall. Best of all, the quality metal construction means this is also durable enough to be used outdoors as a yard or flower pot stake, just by adding the stake provided with your sign.
Message: Jesus is the Gift
(What a great decor item to add to your outdoor decorations!)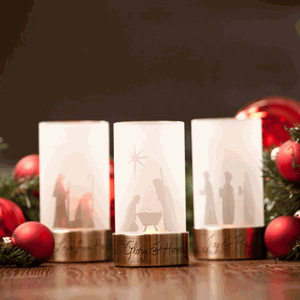 Nativity – Trio Tea Light Holder
"Decorate with meaning and illuminate your home with this delicate trio of tea light luminaries.The Trio tea light creates a beautiful and inspiring mantle decor or table centerpiece. Each frosted glass pillar has a clear silhouette of a different part of the Christmas story: the shepherds, the birth of Jesus and the arrival of the wisemen. These beautifully frosted globes sit on an engraved base."
Inscription: Joy & Praise (Shepherds), Glory & Honor (Wisemen), Love From Heaven (Nativity)
(So very lovely and a very affordable gift option!)
2 winners will be chosen for a $50 coupon code to DaySpring online to enjoy or share.
To enter check out some of the amazing products at DaySpring and leave a comment describing your personal favorite (or more than one if you're indecisive like me).
Extra entries: (Leave a separate comment for each.)
* Like our awesome sponsor Dayspring on Facebook or Twitter
* Subscribe to 4tunate via RSS or by email and/or Like 4tunate on Facebook (If you already do – THANK YOU, just leave me a comment to let me know!)
Each 30 Day Blogger team member was given a different collection of products, so make sure you take a peak at their blogs and comment for additional opportunities to win!