The Christmas We Ate McDonalds And Made The Best of It
Have you ever experienced a holiday that didn't turn out so picture perfectly? 
Maybe you can look back on it now and laugh about it. Perhaps it made more of a memory than your plans would have allowed.
We found ourselves in quite a pickle this Christmas, but it left us with good memories and a few laughs at our own expense, because sometimes the best memories are the unplanned not so perfect ones.
We celebrated Christmas with my side of the family the weekend before Christmas and with Brad's side of the family on Christmas Eve. Which left Christmas Day to celebrate with our "little" family.
Just the six of us.  A "quiet" holiday at home.
We had brunch late in the morning – breakfast bowls and Pioneer Woman's World Famous Cinnamon Rolls. The boys lounged in their pjs most of the day, played with their new treasures, and curled up and watched Polar Express together. It was going simply and perfectly. I planned an easy dinner, so that I could spend time with my family, rather than being stuck in the  kitchen. I put some chicken in the crock pot with a lime marinade, planned a no brainer side; It wouldn't be a gourmet feast, but it would do.
Or not.
Around 4pm the boys were down for a nap, and I checked in on my slow-cooked dinner.  I stirred it a little and instead of smelling like a wonderful tender cooked chicken it smelled completely unappealing.  I had Brad sample it for me, and bless him for his honesty, he broke it to me that it was not so edible. 
No problem.  Plan B.
I've pulled lots of Plan B dinners together before – not to fear.  However, I looked in the fridge and pantry and discovered that the trifecta of all ingredients were completely depleted. No bread, no eggs, no milk. 
How in the world could a quad mom be out of the three essentials of all kitchens on Christmas Day? How could I be so unprepared and empty-handed? 
I started to rack my brain of someplace to get a decent dinner on Christmas.  I turned to Google of course, but came up empty handed except for one remaining idea.
I made a phone call and found that they would be serving food until 7pm.  It would have to do. "We'll laugh about it later and make some memories", I thought out loud.
And that's just what we did.
We loaded the boys in the van, their new Christmas airplanes and helicopters in hand, and headed out in the cold.
The boys ran off some energy in the wide open spaces, gazed at the giant Christmas tree, greeted travelers with a cheery "Merry Christmas!", and could have flown their planes on the luggage carousel "runway" for hours. And who could forget the Christmas dinner feast of McDonalds for the boys and Qdoba for the parents at the airport terminal?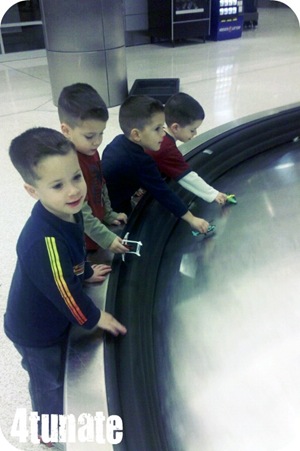 Was it my finest hour as a mother?  Not really. 
Did the boys know any differently or judge me for depriving them all the holiday fixin's? Sure didn't!
Did we make the most of it and make some great memories while we were at it? Absolutely.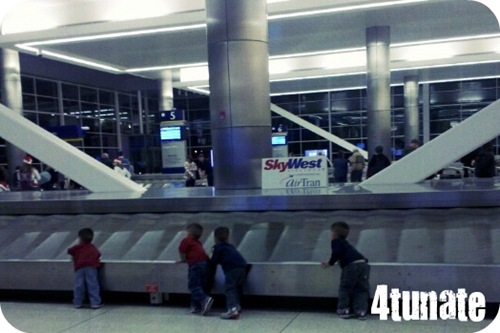 It was a not so picture perfect Christmas and it was wonderful. McDonalds and all.