2 Hour Snow Delays vs. Snowman
I miss those warm early mornings under the covers when I heard my mom gently knock on my door, and tell me that I could go back to sleep for two more hours.  School was running on a 2 hour delay, which meant more sleep, extra time to cram for an exam, a cancelled early morning choir rehearsal, shortened classes without having to make the day up at the end of the year.  Oh how I miss these treasured gifts of an Indiana winter! 
There are no 2 hour delays in motherhood.  Instead sometimes we operate on an even earlier than planned schedule, when little boy's' internal alarm clocks go off prior to what you would prefer. The show must go on. Snow or shine.
But you know what motherhood has on the bygone days of 2 hour delays?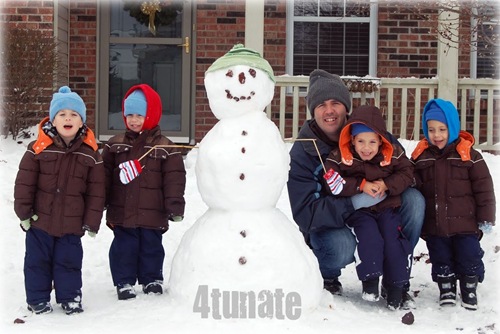 A SNOWMAN!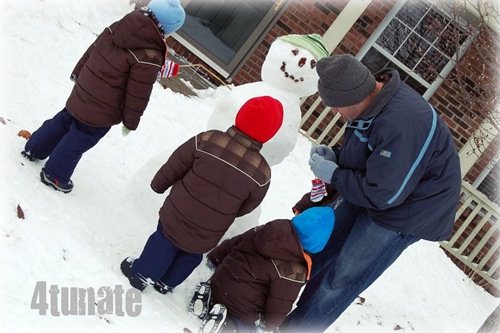 A cute one made with an old hat, mittens, sticks, rocks, and LOVE.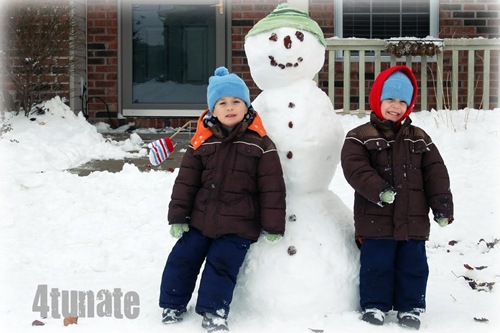 Operation Build Frosty the Snowman complete. And even better than last year's. And they've all grown a foot.  Even Frosty.
Snowman beats 2 Hour Delay by a nose.  A carrot rock nose.