Indianapolis Colts Playoffs : Make It "Personal"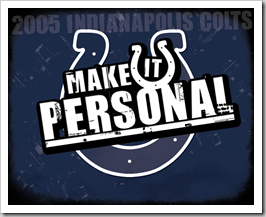 New York Jets Coach Rex Ryan's made another fiery remark this week when he labeled his desire to beat Peyton Manning and the Indianapolis as "personal". Manning's retort?  Typical classy Manning – "I really don't have any reaction to it."
Well you know what?  Winning against the Jets is personal for us.  We LOVE our Indianapolis Colts and you better believe we take the playoffs personally. We'll be cheering them on Saturday night with all our might.  (Not in person, of course, but our cheering volume should rival Lucas Oil Stadium.)
We had the opportunity to let the boys run the field at Lucas a few weeks ago during a blood drive event.  They had a "ball"!  If only we had a 100 yard field for our own back yard!  Needless to say, they slept well that night. 
I forgot my camera, but I was thankful to have my  Flip Video Camera*
on me to capture some of our fun day of running, tackling, kicking, and being silly:
And in case we need to prove our "personal" investment as true BLUE Colts Fans, here's a few of our favorite Colts posts:
Feel free to use the comment section of this post as your own "cheering block" for the playoffs this weekend (as long as it's NOT the Jets)!
GO BLUE!

*links to Amazon affiliate