The Moment I Almost Let Slip Away…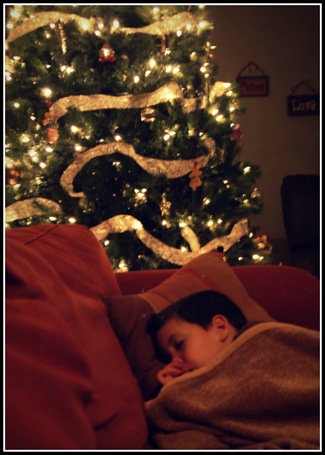 My impatience had been tested and I had fallen.  I was worn.  I was ready to be done for the night, yet his pleadings and persistence would not allow me to quit. Every excuse for being out of bed I had met with a request to return to his bed.
A warning.  A stern threat.  A logical answer to his illogical reasoning. An exhausted bargain as I caught my breath from another trip up the stairs.
Sometime after the second hour of this bedtime battle, he sadly asked me not to be mad at him and it ripped my heart into pieces.  My attempts to hide my frustration were poorly executed.  Three year olds are so instinctively good at honesty, and his own has revealed my selfishness.  
I asked him to come down the stairs and into my arms.  I held him there and talked to him about my love for him. I wept tears of remorse, and he smiled shyly at me. The time was tender and it was fleeting. 
Soon he'll grow out of those sweet footed pajamas. Soon he'll be too big to fit in my lap.  Soon he'll not beg me for yet another hug. Soon he'll love his sleep more than his one on one time with his mama.
I squeezed him a little tighter and asked if he wanted to sleep by the Christmas tree.  His stubbornness fought sleep for just a while longer.  It overtook him and I watched him sleep in the tree light.
Suddenly instead of wishing the night to pass, I begged it to stand still. I almost let this moment slip away and now I've chosen to cherish it.
Just he and I in the light of the tree.