A Little Random for Your Friday…
Fasten your seatbelts, I'm feeling rather random today! 
I thought I'd show you some pictures from our "reality" this week.  Nothing earth shattering, just "us". A few highlights and everyday moments from our week…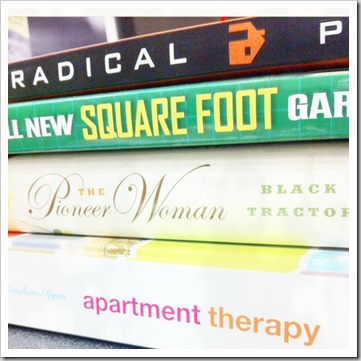 Brad and I got a date over the weekend, which we spent in a QUIET bookstore browsing through books and having uninterrupted conversations. (That was one of our favorite dates pre-quads too!) Here's my stack that I pulled from the shelves: Apartment Therapy Presents: Real Homes, Real People, Hundreds of Design Solutions
, The Pioneer Woman: Black Heels to Tractor Wheels
(which I already had at home, but hadn't cracked open),  All New Square Foot Gardening
(which I immediately ordered off Amazon and just got in the mail), and Radical: Taking Back Your Faith from the American Dream
(which was also laying unopened at home, that Brad and I started reading together).*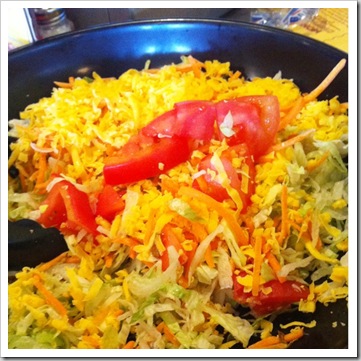 As of Sunday my boys like SALAD!  They each ate their own bowl this week at our favorite Pizza joint, Monicals. Awesome Homemade French Dressing and Cracker Thin Crust Pizza!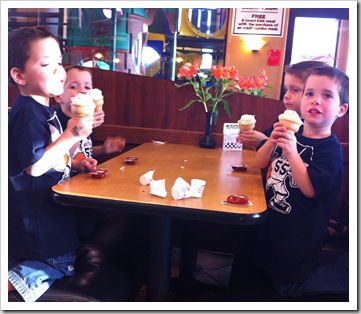 Another Food First this week – their own ice cream cones at Chick-fil-a!  I know, such deprived children! 
These boys have me laughing all day long with their games and creative conversations. Not sure what they were up to here…Tornado drill practice, perhaps?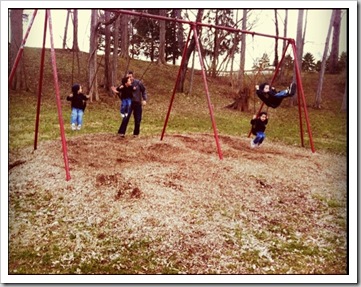 Lastly, we are so excited about the warmer temperatures in our forecast! Hello, Park, we missed you so!  Let the outdoor adventures begin again!
Wait. Stop. One More.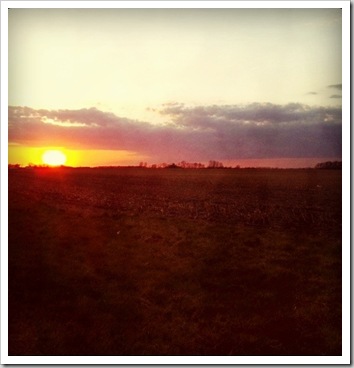 Do you ever get tired of sunsets?  Me neither. I made Brad pull over on the side of the country road last night to try and capture this one.  Pictures can never capture all of its glory. I was telling the boys how the "heavens declare the glory of God" and explaining the meaning behind the verse when Isaac interrupted me to tell me something about his shoe.  Deep moment. =)
Your turn for some Random Friday. I'd love to hear from you…This will be fun!  Ready?  Answer any one or all:
What are you reading or what's on your list?
Where is your favorite place to eat pizza?
What's the weather like in your neck of the woods and how are you enjoying it?
Anything random you'd like to offer!

* Indicates the use of affiliate links to Amazon.com