Safe Play for Safe Kids – Preventing Sports Related Injury
Do you ever want to put your kids in a bubble?
 Even laundry baskets would do the trick, right?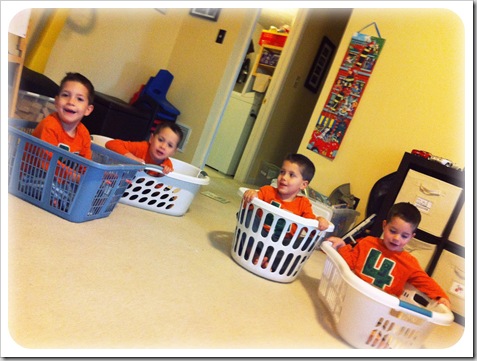 The tallest laundry basket in the world couldn't hold back these ACTIVE boys for more than a few minutes!  Now that the temperatures are starting to warm, you'll most likely find us outside playing at the playground, riding bikes, swimming, and playing a variety of sports. The more active their play gets the greater their risk for sports related injury becomes. Although we aren't enrolled any organized sports just yet, I know the risks for sports related injury are very real.
So how do you balance the need to PLAY with the need for SAFETY? Though awareness and by taking proper precautions. The best part is, our boys are a perfect age for learning these important safety lessons to help them have an injury-free summer! (Or at least prevent major injuries, hopefully!)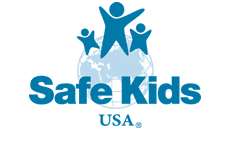 I've teamed up with the Safe Kids organization (in coordination with Johnson & Johnson) this week to raise awareness of sports injuries in children while encouraging kids to stay in the game! "Safe Kids USA is a nationwide network of organizations working to prevent unintentional childhood injury, the leading cause of death and disability for children ages 1 to 14."
Safe Kids provides a wealth of information on the following key components in sports-injury prevention:
Key Components in Sports-Injury Prevention
Preparation: Pre-participation Exams
Hydration
Concussion Awareness
Acute and Overuse Injury Prevention
You will also find a collection of tips for sports injury prevention which include:
Always wear appropriate protective gear for the activity – and make sure it's the right size and properly adjusted.
Consider current and potential weather conditions such as lightning.
Make sure your child has a screening physical before playing organized sports.
Actively supervise children at play.
Make sure responsible adults are trained in first aid and CPR.
Be sure that children play games on appropriate surfaces and areas
And more great sports safety tips which can be found on their website categorized by age and activity
In addition, they are hosting a FREE education webcast on the Safe Kids Facebook Page,"Prepare. Prevent. Play",discussing sports injury prevention on May 2 at 12 pm EST. The webcast will be live streamed and hosted by: Dr. Angela Mickalide, CHES, Director of Research and Programs, Safe Kids Worldwide, Dr. Douglas Casa, Director of Athletic Training Education, University of Connecticut, Dr. Gerard Gioia, Chief, Division of Pediatric Neuropsychology and Safe Concussion Outcome, Recovery & Education (SCORE) Program at Children's National Medical Center, and Steve Young, former NFL Star Quarterback and On-air Talent ESPN.
I just clicked "Yes" for the RSVP for the Facebook event, and hope you'll join us!
What are some ways you promote "safe play" during the summer months?

Thanks to Safe Kids and Johnson & Johnson for your dedication to promoting safe play and for compensating my efforts in helping promote this cause!