Fresh and Easy: Veggie Quesadillas Recipe
Have you ever taken a bite of food and instantly want to try and make your own?  That's how I felt when Brad and I snacked on some incredible Veggie Quesadillas from Avec Moi. (It's a take-out place for home cooked meals here in Indy. WIN!)  I attended a baby celebration for Moosh in Indy that Emily and Shireen so graciously hosted and they sent us home with to-go boxes.  How fun is that?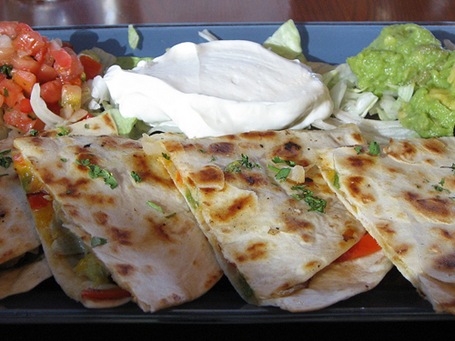 Just one bite had me hooked.
The ingredients became mandatory items for my next grocery run.  Easy ingredients. Fresh. Simple.
So in case you still have a Cinco de Mayo appetite…
Ingredients for Easy Veggie Quesadillas:
Flour Tortillas
Monterrey Jack Cheese
Red Pepper
Green Pepper
Yellow Squash
Cooking Spray or Butter
Directions for Making Easy Veggie Quesadillas:
Spray or lightly butter a medium sized skillet. (Or you can use a Quesadilla Maker)
Sauté strips of veggies until desired texture.
Remove veggies from heat and assemble quesadillas.
Layer cheese and sautéed veggies between two flour tortillas.
Cook until lightly brown on both sides and the cheese is melted.
Top with desired fixings: sour cream, salsa, cilantro, etc.
Devour!
Go ahead and try it – you'll love it for an easy, fresh, homemade meal!
What's YOUR Favorite Quesadilla Ingredient?