Making and Decorating Memory Verse Cards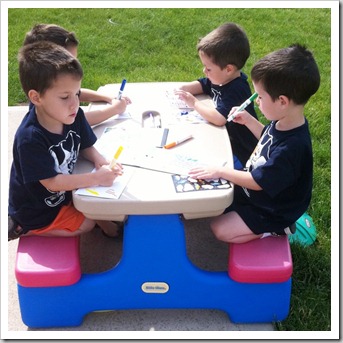 Today (Wednesday – I'm writing this and saving it to post after my surgery) I decided to make some Bible verse cards to have handy in the next few weeks of my recovery. I let the boys get into the project by decorating them and adding their personal touch.  I'm so thankful for the Word of God that comforts, encourages, challenges, and convicts! So practical, yet profound!
(front and back)
We read through the verses and talked about what it meant for God to be our strength, and how we do not need to fear. Perhaps a few of these will encourage you as well today:
Philippians 4:6,7 "Do not be anxious about anything, but in everything by prayer and supplication with thanksgiving let your requests be made known to God. And the peace of God, which surpasses all understanding, will guard your hearts and your minds in Christ Jesus."
Psalm 62:6 "He only is my Rock and my Salvation; He is my Defense and my Fortress, I shall not be moved."
Psalm 73:26 "My flesh and my heart may fail, but God is the strength of my heart and my portion forever."
Matthew 11:28-30 "Come to me, all who labor and are heavy laden, and I will give you rest. Take my yoke upon you, and learn from me, for I am gentle and lowly in heart, and you will find rest for your souls. For my yoke is easy, and my burden is light."
What verse(s) do you cling to during difficult situations?

Stay tuned for a guest post from Brad on how we are striving to teach the Word to our little learners.  It's a good one!