Abdominoplasty Recovery: Week 1
Well, I'm a week into recovery from the abdominoplasty surgery– although it only seems like a few days ago that I went under.  The recovery has been SLOW and gradual, but it does get a little easier each day.  However, the pain is just as intense, since I had to go off the narcotics due to the side effects.
Basically it's like they've tied up a corset on the inside of me and pulled it as tight as possible.  Not only is this an uncomfortable feeling, it creates so much tightness that it is difficult to breathe. Hence my lovely spirometer to help increase my lung capacity again.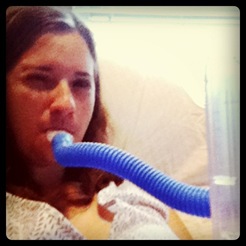 Overall, I'm coping well and taking it easy in my recliner all day long. 
The boys are back home, which is wonderful, but I'm so thankful that our families came together to help out for several days so that I could rest and recover in a quiet house.   (So so thankful, Tom and Kathy, Kristy and Ryan, Mom and Dad and Sandy!) 
I had my post op appointment yesterday and everything looks to be healing correctly. 1 week down, several to go! A little better each day!
Thanks for the continued prayers and encouragement, Friends.  It means THE WORLD!