Creamy Cucumber Salad and Other Refreshing Cucumber Recipes for the Summer
Our little square foot garden is producing an abundance of cucumbers, along with other produce that I will update you on soon. Although I love munching on a raw cucumber, sometimes you have to dress them up a little.
I love this Creamy Cucumber Salad recipe for just that –  It's creamy, refreshing, and flavorful!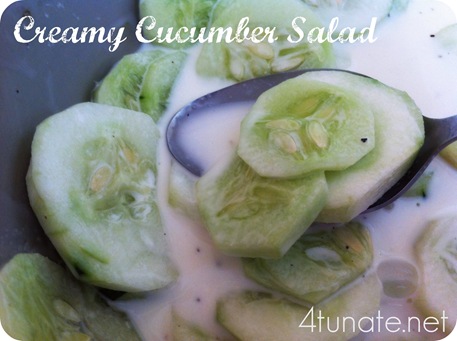 Creamy Cucumber Salad Recipe
Ingredients:
2-3 Fresh Cucumbers
Salt (to taste)
1/2 c Mayonnaise
2 T White Vinegar
1/4 c Granulated Sugar
Pepper (to taste)
1/4 c Milk
Instructions:
Soak Freshly Sliced Cucumbers in Salt Water for 30 minutes.
Mix together mayonnaise, vinegar, sugar, pepper, and milk until well blended in a medium sized bowl.
Combine drained cucumbers with the mayonnaise mixture.
Serve and enjoy!
Here's Some Other Refreshing Cucumber Recipes For Your Summer: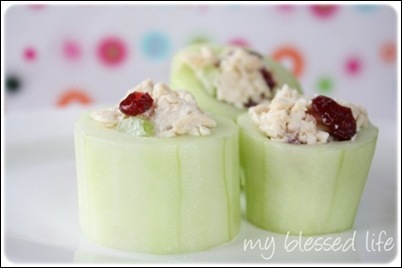 I cannot wait to try this Chicken Salad Cucumber Cups from My Blessed Life. What a genius idea!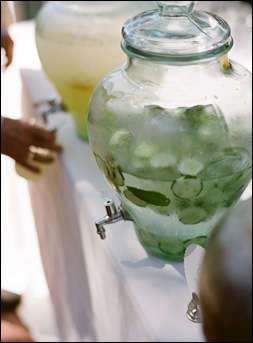 Have you tried Cucumber Water?  It hits the spot on a hot summer day and looks great at a wedding or outdoor event. Image by Style Me Pretty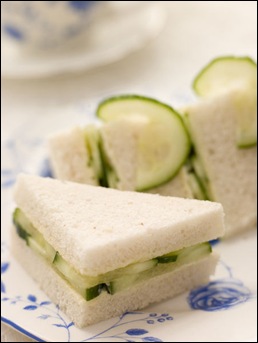 I almost forgot about Cucumber Tea Sandwiches until I saw this recipe from Life123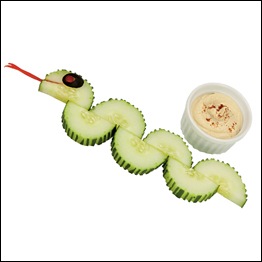 I think our boys would LOVE the idea of eating snakes for dinner with these cute Cucumber Snake Snacks from Disney's FamilyFun!
What's YOUR favorite way to eat a cucumber?