Fore! (4) Golfers Beware!
(Post by: Brad)
I love being a Dad…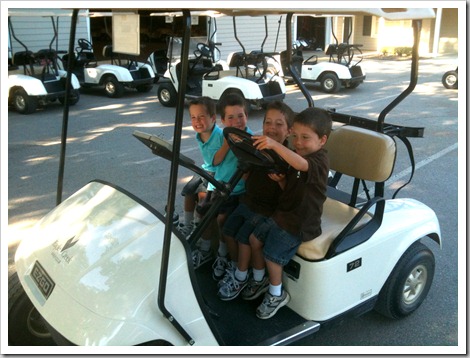 When Jen was in the early days of her quadruplet pregnancy, my mind was always racing about what my new life was going to look like.  There was always the nagging concern our children would not survive the pregnancy at all, but beyond that, I had many other dreams about what life might be like.  Secretly, I also had my preferences about what gender our children would be.  As with anyone else, I just wanted healthy kids, but I always got a jolt of excitement when I considered the possibility that we could have 4 BOYS!
You got it, my preference from the very beginning was to have 4 sons.  The picture above is a perfect example of the type of thing I used to dream about.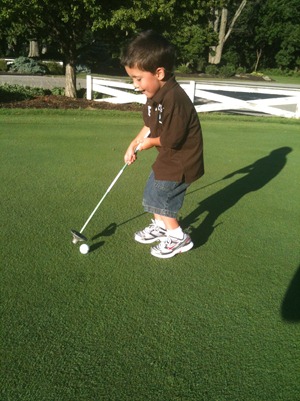 Doesn't Clark have great putting form?  Such a natural athlete!  Oh wait, that's not a club in his hand, that's the flag stick…oh well. 
I decided to take the boys to the golf course for the first time last week.  I had the privilege of learning to play golf with my parents as a kid, and I am eager to teach my boys this "gentlemen's game" that I love.  Although I have averaged 2 rounds a year since the boys were born, I am hoping that getting them involved may increase my frequency on the course again!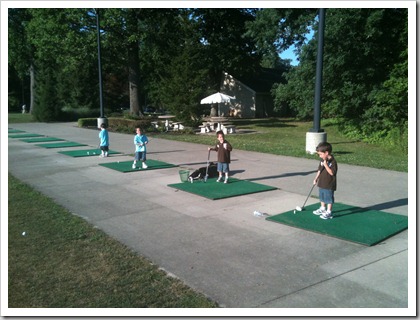 After some work on the practice green, we then decided to get a bucket of balls and head to the driving range.  Now this was one of the funniest, yet most dangerous things I have ever done with my children.  I didn't think much of it ahead of time, but four young boys swinging around heavy metal clubs, smacking hard white golf balls is a bit much for one dad.  Fortunately, we made it out of there without any wounds.
Here are a couple more shots of our fun day on the course.
They loved the putting green!
What golf outing is complete without a stop at the 19th hole, the clubhouse snack bar!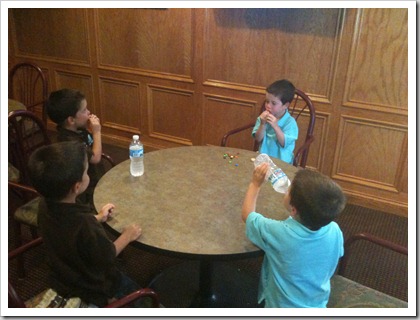 M&M's, Cookies, and Water!
Brad