80 Teeth. (The Tooth Fairy Better Have a Good Savings Plan in This Economy)
Sure the talk of the nation is interest rates, drops in the stock market, and the financial mess we've made, but we're wondering what affect this will have on the Tooth Fairy's investments and savings.  After all, we will have 4 mouths that will soon need her services. 
All 80 baby teeth passed inspection at the dentist, and with good report. We can plan on the first ones to start falling out in the next 1-3 years, so let's hope that the Tooth Fairy has a sound financial advisor.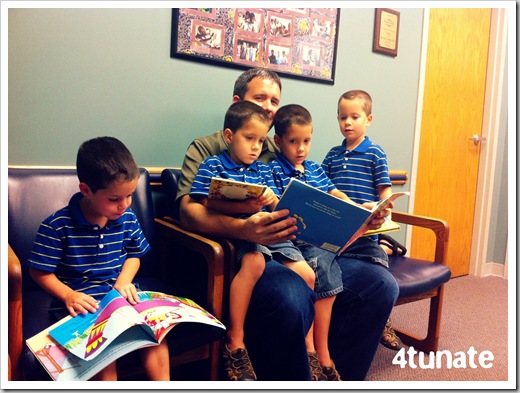 The boys did so well for their appointment.  This was their first "real" dentist appointment that included a cleaning.  They sat in the chair by themselves and did everything they were asked with no complaints.  (Insert a big sigh of relief!)
Brooks suggested that we sell their old toothbrushes since they got new ones from the dentist.  Any takers?