Look in the Mirror…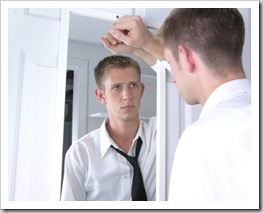 Have you ever caught yourself being overly critical of your spouse? 
Have you found that you tend to hold them to a higher standard than anyone else in your life? 
Do you hold them to a higher standard than even yourself?
I began asking myself these questions a few weeks ago because of a very trivial thing that happened early one morning before anyone else was out of bed.  I was cleaning up a few toys the boys had missed the previous evening, and without much thought, I got irritated after picking up Jen's shoes for the second straight morning.  I will admit, I actually had the selfish thought, "do I seriously have to pick up her shoes everyday too?"  (Yes I know, it was only twice, but my complaining heart was exaggerating.)
When I arrived at the basket where we keep our shoes, something struck me immediately.  There were two pairs of my own shoes laying on the top of the shoe pile that I distinctly remembered had been left laying on the floor in our bedroom the day before.  I also knew with certainty that I had not put them away, so Jen had obviously done so. 
At that moment, I actually sat down and asked God to forgive me for having a complaining heart.  I also began reflecting on my marriage.  I recognized a tendency on my part to not only be critical, but I was often getting irritated about things for which I am equally guilty.  I realized that I was generally holding her to a much higher standard than anyone else in my life, including myself.  Was I hold her to a higher standard than is even achievable or reasonable?  At times the answer was, YES.
I am beginning to recognize that sometimes when Jen says something offensive, rather than communicating that specific problem and resolving it, I have been elevating my standards and expectations of Jen.  This gives me ample opportunity to find other offenses to hold against her, which helps me justify my prideful resistance to seek reconciliation. 
It is always difficult for me to admit that a recurring problem in our marriage might be mostly my fault. However, the Bible says that our hearts of desperately wicked by nature, so I want to be on the lookout for these tendencies.  I need to regularly look at myself in the mirror and assess my own failures that contribute to the problems.  There is such freedom in admitting these discovered faults to Jen, and then prayerfully committing to working through the issues together. 
After talking about this initially, we wanted to share this with all of you.  I assume we are not alone in this struggle.  Jen and I are passionate about finding the cracks in the foundation of our marriage and fixing them before they become a major issue.  We have seen the terrible pain that friends and family have endured due to marriages failing.  We know that we are not immune to the sins that lead to our marriage failing.  We pray that God would protect our marriage by providing the wisdom needed for marital success.  We pray the same for your family as well.
Brad