Thursday Thankfulness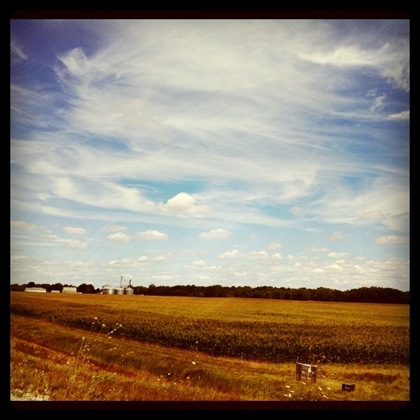 As our Indiana Summer threatens to come to a close, I'm overwhelmed with gratitude for this season of life we are experiencing.  Although this summer has had its share of trials, there have been numerous blessings. God has provided for us, and lavished His mercy and grace upon us in ways we do not deserve.
Here's some things I'm thankful for on this Thursday:
~ the beauty of Indiana farmland
~ the joys and accomplishments of finishing swim lessons
~ the quietness of the house after the boys are fast asleep
~ the return of raindrops this past week
~ a good report at my post-op appointment and another week of getting stronger
~ the blessings of friendships near and far
~ watching my boys love on their grandparents
~ watching our parents love on their grandkids
~ exploring God's creation
~ Indiana sweet corn
~ the smell of clean laundry
~ a home that might not be as clean as I'd like, but it's been played in and loved on
~ good study time in the Word
~ a refreshing glass of sweet tea
What are YOU thankful for this Thursday?