5 Quick and Healthy Breakfast Ideas for Back to School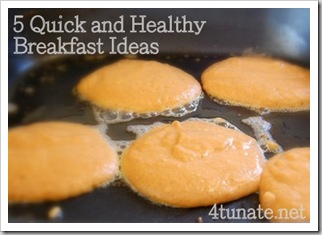 Fall is a great time to re-establish routine, and set new goals. We've been working on several goals of home organization, and eating healthier. Although we are not sending our boys to school just yet, we're still on a mission to start our days better with breakfast.
Typically the boys scarf down several bowls of cold cereal in the morning.  They LOVE cereal, and most mornings it suits us just fine.  However, I don't always take time out to eat something myself.  I'm quick to jump into the daily routine of fixing their breakfast, cleaning it up, emptying the dishwasher, starting a load of laundry, and getting them dressed and ready for the day. I regularly find myself at 11am thinking on an empty stomach about what to serve for lunch. Anyone else?
And just like everything else, if I fail to plan, I pretty much plan to fail. So I've been planning a couple of healthy breakfast options to my week.  And trust me, it has to be practical in the kitchen – easy on hand ingredients and quick recipes that don't force me out of my comfy covers any earlier!
Here Are 5 of My Favorite Quick and Healthy Breakfast Ideas

:
1. Baked Oatmeal – This recipe for Overnight Apple Cinnamon Baked Oatmeal from Simple Bites is scrumptious! It's a hearty and healthy way to start the morning.  And I love that you make it ahead, and bake it in the morning.

2. Fruit Smoothie – This Strawberry Pineapple Smoothie from Annie's Eats looks like a great smoothie recipe to recreate. However, you don't have to have a recipe to make great smoothies – just blend some yogurt, frozen fruit, a little bit of milk or juice and you're good to go! (You can even add in some hidden goodies like spinach or flax seed to boost it nutritionally.)


3. Chocolate Chip Banana Bread – I'm over the moon excited about this recipe.  I've tried my hand at banana bread time and time again without getting it just right and I finally found a winner!  I adapted Chocolate Chip Banana Bread recipe from AllRecipes.com by using butter instead of shortening.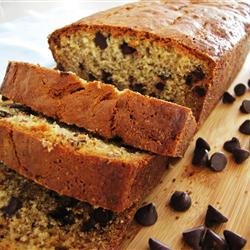 4. Eggs in Muffin Tins – I haven't tried baking eggs in muffin tins yet, but it's too genius to not try!  You just baked them in a lightly greased muffin tin at 350 degrees for 10-15 minutes. Wouldn't this be perfect for on the go breakfast sandwiches?

5. Pumpkin Pancakes – Nothing puts me into the mood for fall better than the taste of pumpkin.  Our family's Pumpkin Pancakes are always a hit and so easy too!


How about you?  What are YOUR favorite go-to breakfast recipes?  Oh and if you have a good homemade granola recipe, please share! =)