White House Tweetup Event with Press Secretary Carney and Other Members of the Obama Administration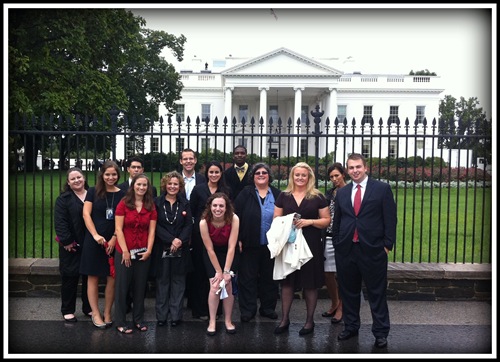 What a whirlwind of a trip to our Nation's Capitol! If we didn't have the pictures to prove it, we might have thought it was all a dream.  In less than 24 hours, we booked airline tickets, hotel, arranged a night in Annapolis with a friend, and found 3 sets of babysitters for our quadruplet boys.  It seemed like an impossible task to pull together in such a short amount of time, but when the White House invites you over, you just can't refuse! 
Brad and I will break it down for you how our day was spent, and some things that we were able to take away from our unique experience. (Forgive us in advance for our lack of brevity – it was a lot to take in!)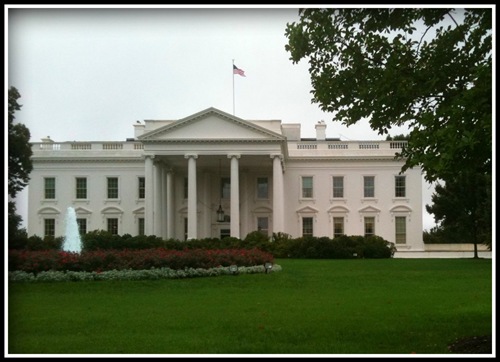 Jen: We took this opportunity of a lifetime along with 13 other invited guests of The White House Tweetup to tour The White House, and to discuss technology and job strategy with Macon Phillips, The White House Director of Digital Strategy; Aneesh Chorpra, US Chief Technology Officer; and Press Secretary Jay Carney in an intimate setting. A couple of invited guests were unable to make the trip at the last minute, which enabled Brad to accompany me for the entire day.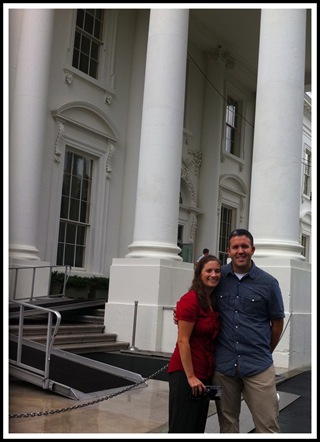 Brad: Our day began with a private tour of The White House, led by Kori Schulman.  She is the "voice" behind most of the @WhiteHouse tweets. We were not allowed to take any photos or video inside The White House, but tweeting was allowed for our group.
I think the two things that most struck me about The White House was both the intricate detail and history of every decoration and design, and the amazing thought of how many important decisions had been painstakingly made inside these walls.  Every single room holds a hundred historic moments.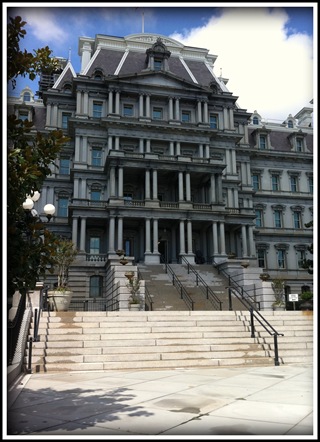 Jen: After our tour of East Wing, we headed to the adjacent Dwight D. Eisenhower Executive Office Building.  This is where many of the Executive Branch Officials have offices, including Vice President Biden. In fact, our meetings took place just down the hall from the Vice President's office, as well as the offices for our National Security.  Not exactly your "normal day at the office home" kind of day.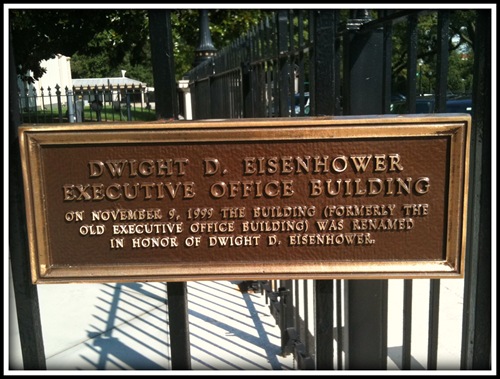 Macon Philips @Macon44, (pictured below on the left) discussed the social media strategies of the Obama team, and their desire to increase both accessibility and citizen participation in our government.  They have shown an outstanding effort in social media during the campaign and this term.  
Later in the afternoon we met with Aneesh Chopra @AneeshChopra (pictured above on the right) to discuss leading technologies and several new initiatives in business, education, and innovation. 
Brad: I was greatly impressed by the personal way that both Mr. Chopra and Mr. Macon approach their jobs.  There was no apparent arrogance about their position within The White House. In fact, they seemed genuinely open to the ideas presented by the group.  While I may have philosophical differences with the administration on some issues, there were some technology goals that I was excited to hear the Obama Administration are pushing.
One example is creating a reliable way for first responders to communicate in the event of a major disaster or terrorist attack.  Did you know that the police, fire department, and city officials in New York had no good way to communicate with one another on the morning of 9/11/2001?  Thousands of people made calls instantly as the attack began, this crippled the cell phone networks, making it impossible for the first responders to coordinate rescue and public protection properly.  There must be a solution to assure public safety.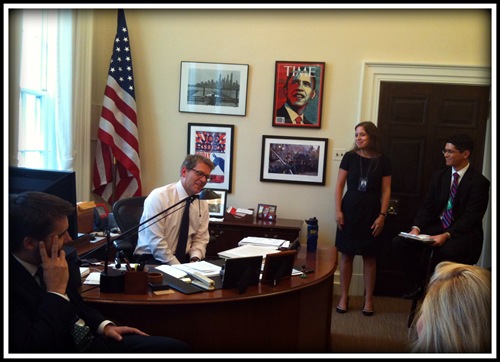 We were shocked to learn at the last moment that we would be meeting with Mr. Carney @PressSec in his office instead of the Press Briefing Room, which happens to be in the West Wing of The White House, a mere 10 paces from The Oval Office!  We walked right by "The Situation Room" as we entered his office from the west door.  The walls were lined with fresh photos of monumental moments in our recent history such as the leaders of our country huddled in the Situation Room during the raid on Osama Bin Laden's hideout.
All of the Tweetup participants were allowed to ask a question of Mr. Carney.  Since they allowed both Jen and I to participate, Jen delegated our question to me. Thanks, Babe!  She was a bit nervous anyway, and I was ready to fire my question. 
I told him that in the last stimulus package, the Obama Administration had promised 75,000 jobs to the state of Indiana by the end of 2010.  By their own accounting, less than 7,500 jobs were actually created.  I wanted to know what assurances they could offer that spending another $500 billion on a new Jobs Act would accomplish its goals. (Thanks to Pete Seat with the Indiana Republican Party for that statistic.)
Mr. Carney began his answer by reminding us of the economy that the "former administration" had left them.  I then interrupted him.  I immediately turned  bright red as I realized what I had done.  But, I went on to say that I was not asking the question from the perspective of a Republican in congress running for office.  If we are going to spend this money, I truly want it to succeed.  I love America, not a party.  I don't necessarily agree that we should spend it, but lets make sure it makes a difference this time if we are going to do it.
He assured us that every effort was being made to study the last package, and craft this one in a way to make it more effective.  I pray that God would give them wisdom in these critical decisions.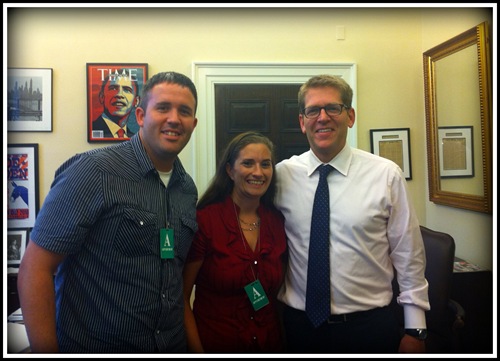 Jen: At the conclusion of our discussion, we were able to interact with Mr. Carney more personally.  We were impressed that he already was familiar with our family.  He took a genuine interest in our job situation, of Brad's layoff in 2009, and our business start-up as a result. Political differences aside, it was a very respectful, kind-hearted, and sincere conversation.
Overall, it was an unforgettable experience, and a well executed event by the entire Digital Media Team.  We deeply valued their personal approach and their desire for input from "common folk" like us.
(And FYI, the only taxpayer money spent on this trip was for this Swag Box of Presidential M&Ms. Our travel expenses and arrangements were our own personal responsibility. This post was in no way compensated or required.)