BBQ Pulled Pork Stuffed Baked Potatoes in the Crock Pot
I promised an easy and delicious pork sirloin roast recipe this week, and this will not disappoint!  We devoured this for dinner last night – so simple, so easy, and loved by all!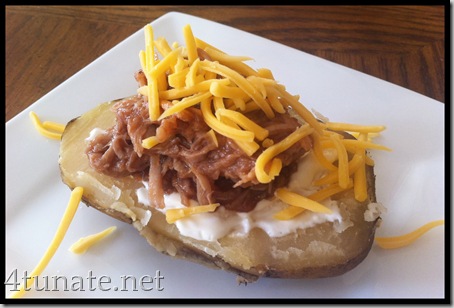 So how do you make BBQ Pulled Pork Stuffed Baked Potatoes in the crock pot, you ask?
Let's start with the simple ingredients:
2 Boneless Sirloin Tip Pork Roasts (or similar cut)
Salt and Pepper
2 Stalks of Celery
1 Medium Onion
1/2 c Water
Idaho Potatoes
Your Favorite Bottle of BBQ Sauce or Homemade Recipe
Sour Cream
Shredded Cheese
Directions for Making BBQ Pulled Pork Stuffed Baked Potatoes:
Note: This recipe serves 8-10 people.  Perfect for a family get together or to share with a neighbor! You can always 1/2 this recipe as well!
1. First start out with a pork sirloin tip roast, such as this one that I purchased at Costco for under $1.99 a pound. These came in a 4 pack.  For this recipe, I used 2 roast, which was just over 3 pounds of meat.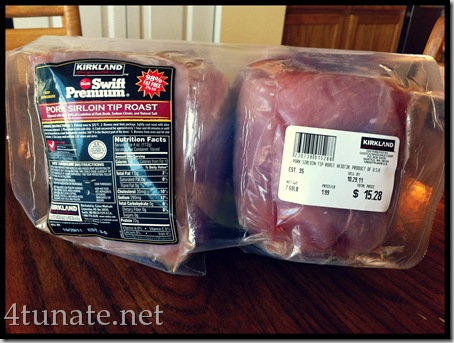 2. Place the roasts in a large crock pot with a stock of celery, a 1/2 cup of water, and a generous seasoning of salt and pepper.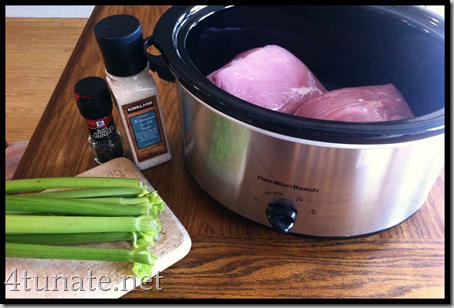 3. Cover with a medium sliced onion.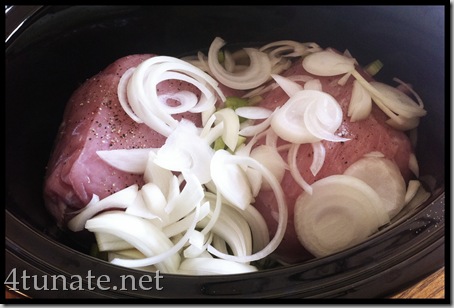 4. Allow the pork, seasonings, and veggies to cook happily on low for 7-8 hours.
5. Meanwhile, clean and dry 6-9 baked potatoes, depending on the size of your crock pot. Roll the dried potatoes tightly in foil. (If you want to make a smaller portion of this recipe, use a mini crock pot with just a few potatoes and one roast instead of two.)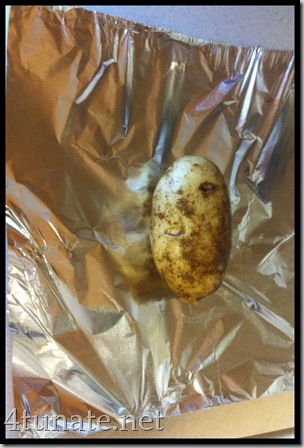 6. Fill your crock pot with the foiled potatoes and cook for 8 hours on low. No water or maintenance required! (You could also make these a day ahead and re-warm if you don't have a additional crock pot on hand.)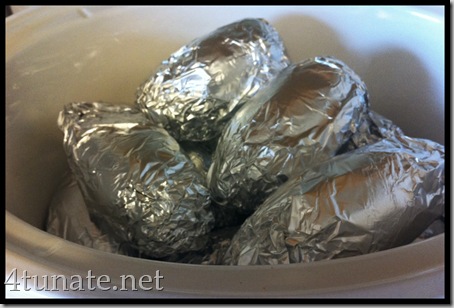 7. After 7 hours of cooking the roasts on low, drain the liquid and shred pork. Pork temperature should read a minimum of 145 degrees.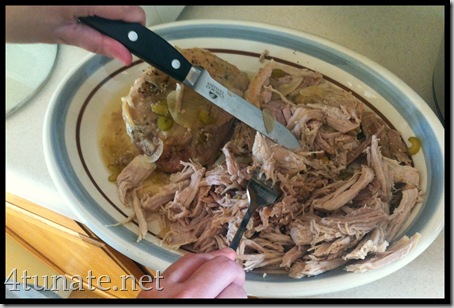 8. Return the pork to the crock pot, and add your favorite BBQ sauce.  I an extra large bottle of Original Baby Ray's, which I also purchase at Costco.  You may need up to 2 bottles of the regular size.  Just enjoy a taste taste on the house! Allow the pork to marinate in the sauce on low for 1/2 – 1 hour.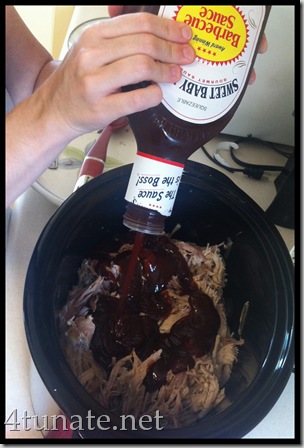 9. Now it's time for the fun assembly. Spoon out an oval from the baked potato and fill with sour cream.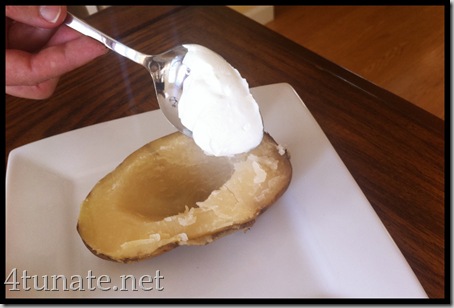 10. Top with a generous portion of the BBQ Pulled Pork.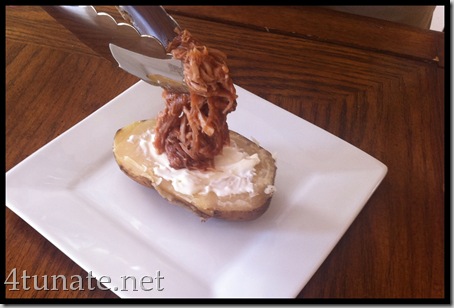 11. Sprinkle with your favorite shredded cheese. (I used Sharp Cheddar.)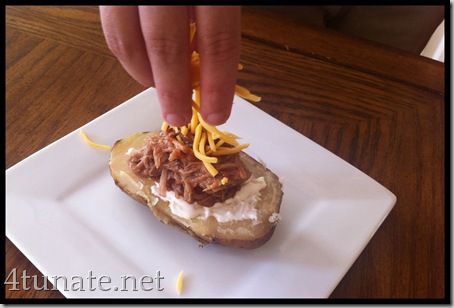 12. Now try to resist until dinner time.  I dare ya!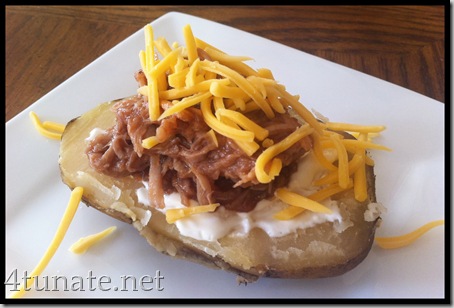 It's impossible!  See?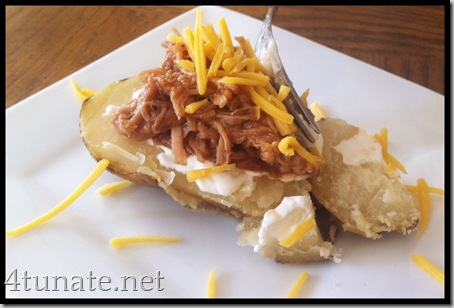 Honestly, this recipe turned out SO GOOD and as easy as could be! I'll NEVER make baked potatoes any other way!  It's an easy family dinner that doesn't require any slaving over a hot stove!
***If you would like to enter to win a $25 Costco Gift Card, please leave a comment in this post about your favorite way to eat PORK (chops, roast, etc.) and tell us how you make it (oven, grilll, crock pot, etc.). ***
Giveaway ends October 21st.  Winner will be chosen at random and notified by email.
Don't forget Costco is celebrating National Pork Month with deals on pork weekly! Don't forget you can find more ideas on how to fix different cuts of pork on Costco's "In the Warehouse" and at PorkBeInspired.com. Thanks again to Costco and The Motherhood for sponsoring my efforts in promoting this campaign!