Comparing Grass…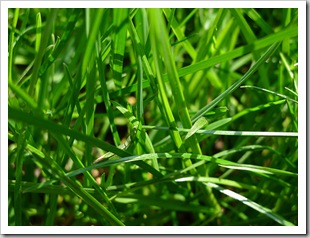 Have you ever found yourself comparing yourself to those who seem to have it all so perfectly together in appearance?  They are the ones with the extremely well-behaved children, they look fabulous and fashionable, their houses are out of a magazine, they volunteer, they bring outstanding deserts or side dishes to functions, they have their Christmas shopping done in February…
It's exhausting to even stand by and watch, yet it makes you feel so inadequate.   Their grass looks so much greener from your viewpoint.  And soon the green of envy makes you feel like they have something you should have.
Perhaps you have thought things like:
If my husband made more money I could look like that too…

If I didn't have so many other responsibilities I could be a better housewife too…

If I would have gotten a more prestigious degree than I could have had a successful career…

If I stayed home I would have time to make gourmet meals 5 times a week…

If my kids acted like her kids, motherhood would be a breeze!
It's something I think we all struggle with as women, yet often times we are wasting time comparing ourselves to something that isn't even a reality.  Appearances are deceiving. We don't know what happens behind closed doors.  We have no idea of the struggles they are facing on a daily basis.  Their outside façade may be hiding an abundance of hardship. Perhaps their grass is greener, but what's inside their walls?
The world tells us that we should have this and that, and be treated and respected as royalty – yet we live in a reality that looks much different. And that gap of expectations versus the reality that we inhabit leads to discouragement, discontentment, frustration, disappointment.
I thought of this yesterday, as I had a particularly difficult day in motherhood.  I'm sure there aren't too many comparing their selves to my life, as it looks far from perfect in appearance. However, I thought about my different encounters of the day, and how easy it is to play "put together".
I can smile and say thank you when someone complements me about our boys behaving nicely. (Yet, they didn't see how I nearly lost it after breaking up the 27th fight of the day.)

I can tell people how blessed we are when they make a comment in passing. (Yet, how quickly I forget to embrace thankfulness when faced with a stressful parenting moment.)

I can accomplish a few things on my list. (Yet I'm overwhelmed by the things I'm not able finish or the people I feel I'm letting down.)

I can carry on a surface conversation with ease. (Yet, you don't see my hurts or fears.)
You may not see all of my flaws, my worries, my mistakes, my frustrations, or my "ugly grass". My grass may look decent from the road, but if you look closely it's full of weeds, and dead spots, and rocks.
I'm full of failure and a life in need of grace. He is the Shepherd of the greenest pastures and nothing I do compares to His perfection. He has chosen to take my filthy rotten rags and replace them with clean spotless linens. When I quit comparing my life to others and instead compare where I would be without the cross, nothing else matters. 
Grass grows, then fades, and is forgotten, but His love endures forever. 
Psalm 103:8-18
8 The LORD is compassionate and gracious,
   slow to anger, abounding in love.
9 He will not always accuse,
   nor will he harbor his anger forever;
10 he does not treat us as our sins deserve
   or repay us according to our iniquities.
11 For as high as the heavens are above the earth,
   so great is his love for those who fear him;
12 as far as the east is from the west,
   so far has he removed our transgressions from us.
13 As a father has compassion on his children,
   so the LORD has compassion on those who fear him;
14 for he knows how we are formed,
   he remembers that we are dust.
15 The life of mortals is like grass,
   they flourish like a flower of the field;
16 the wind blows over it and it is gone,
   and its place remembers it no more.
17 But from everlasting to everlasting
   the LORD's love is with those who fear him,
   and his righteousness with their children's children—
18 with those who keep his covenant
   and remember to obey his precepts.
[Photo Credit: victoriapeckham]