Here Comes the Bride and the Little Dudes Too!
When Emily asked me if the boys could be part of her upcoming wedding, I didn't hesitate to say "Yes!".  I was excited to see them take part in something so incredibly special for someone we love so dearly.  However, I was hopeful that things would go off without a hitch. Having 4 four year olds involved in a formal occasion comes with risks, after all. I'm still so delighted about how well the wedding went on Saturday.  Everything went so smoothly and I think it will be something the boys will always remember.
Do you see the GORGEOUS going on in this picture?  (And I'm not just referring to the stunning bride!) The trees and the weather were absolute perfection on Saturday.  It was something you would DREAM of having for a fall wedding in Indiana!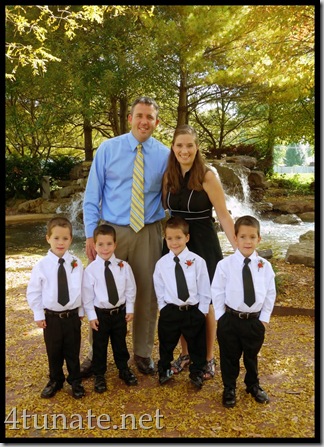 I was THRILLED to have Emily's dad take this family portrait of us while we were in between formal pictures.  I love how it turned out! Do you see all those lovely yellow leaves on the ground and all of that handsome?  *Swoon*
We also took the rare opportunity to take some individual shots of the boys. (Henry on the left, Isaac on the right.)
My heart is still melted in a puddle. (Brooks on the left, Clark on the right)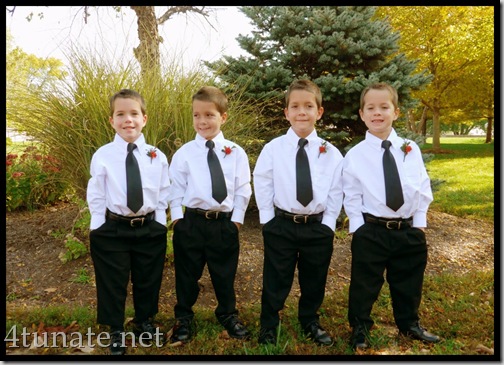 And I'll throw this one in again, just in case you missed it.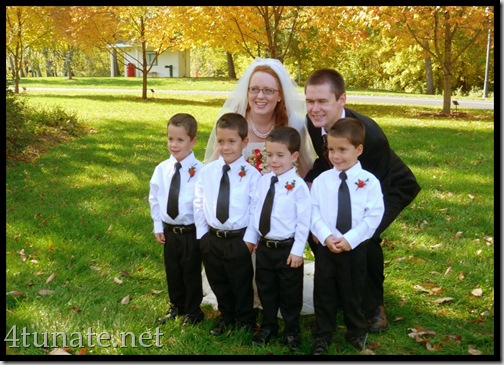 Emily has helped out with these boys since they were just under 2, so being part of her special day was so meaningful. She has been a God-send in our all of our lives, and we are so blessed by her friendship.
The wedding photographer, Kristi Michelle, was so laid back and fun.  Case and point?  A Ring-Around-The-Rosy photo op! I can't wait to see how she professionally captured the day.
After pictures we headed back to the church for some non-messy grub, and even a little pre-wedding coloring.
And then it was GO TIME!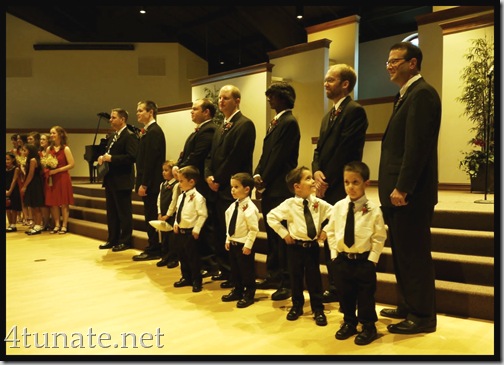 The boys came down the aisle in pairs, holding hands with the sweet flower girls. 😉 The boys were instant friends with Brad in the wedding party, which explains Brooks looking back at him with his hands on his hips, as soon as he arrived at his spot.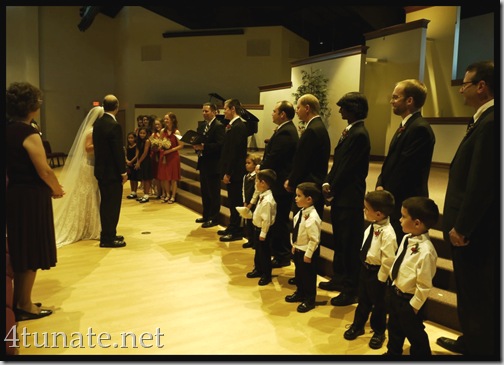 They stood in the front until Emily's dad gave her away and after the prayer, and sat with me in the front for the remainder of the ceremony.  Highly recommend that plan, Brides to Be!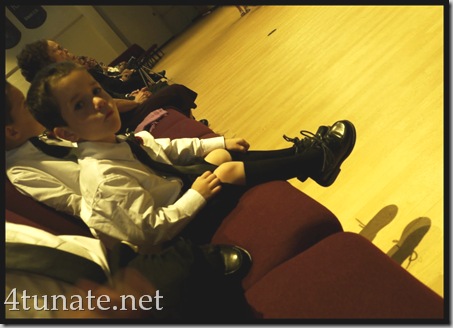 The only semi-embarrassing part was Henry sat with his pants over his knees and then preceded to walk out of the church holding his pants as shorts to show off his dress socks, which they all affectionately refer to as their "soccer socks". Every wedding needs some kid humor, right?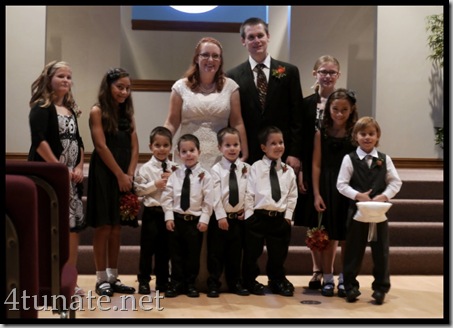 Can you tell this girl LOVES children?  She had 9 total in her wedding ceremony, and they all did exceptionally well! 
We love you, Emily and Nick!  Thank you for allowing our boys to have a small part in your incredible day.  We are thrilled to see God bring both of you together and will be praying for your marriage to be a beautiful picture of Christ's love!
Side note: The boys have been playing "wedding" all week, complete with all of them going on a honeymoon in the backyard on their trikes. =) Thank goodness we have a few years!