Airing Out the Dirty and Clean Laundry on the Whirlpool Duet
I do a lot of "airing out my dirty laundry" here at this space…lately I've been posting about my LITERAL laundry and how my Whirlpool Duet Washer and Dryer have entirely changed my laundry routine for the better!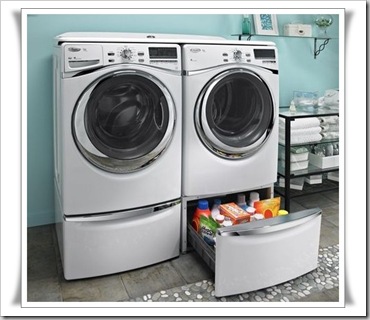 For my final post, I'd like to air it all out for you…the stains, the wrinkles, the dirt, along with the bright spots. Let's start with the bright side, because these far outweigh the dark side!
The Bright Side:
I can conceal all of my laundry necessities and more in the pedestal drawers. Things stay much more organized, yet out of site!
The front loading means I no longer have to break my back leaning over the washer to transfer loads of laundry…and let's be honest I LOVE that the boys can help too, because it's on their level!
I no longer have to measure or pour in detergent for each load.  The precision dispense measures the amount of detergent needed for each specific load based on weight and specific cycle.
The options are endless on cycle choices: sports equipment, bedding, business wear, jeans, pillows, you name it. I've washed shoes, bedding, furniture covers and they've all came out spotless!
My laundry load has reduced because of the larger capacity.
I can touch things up that I didn't get to immediately with the "Touch Up" cycle on the dryer that even has a steam option to get out wrinkles.
(That was easy…now for the dark side!)
The Dark Side: (Or Perhaps the Not-So Dark Side)
By using the pedestal drawers, you pretty much forfeit the work surface functionality, because it is too high to fold or pre-treat stains. 
You can only use HE Laundry Detergent. Non-HE Detergent will increase suds, which will increase residue and increase rinse time and decrease cleaning. I need to donate my stockpile of non-HE detergent.
Although we were given this pair to review, I think if we would have purchased these on our own the price tag would have deterred us. However, I truly believe in their value after using them for the last three months.
The inside of the dispenser drawer stays wet. I probably need to start wiping it dry between loads.
What are the bright and dark sides of your current laundry appliances?
(In case it needs repeating, I wrote this review while participating in a test-drive campaign by Mom Central Consulting on behalf of Whirlpool and received a complimentary Whirlpool Duet washer and dryer to facilitate my review. Whoohoo!)