Homemade Oatmeal Chocolate Chip Slice and Bake Cookies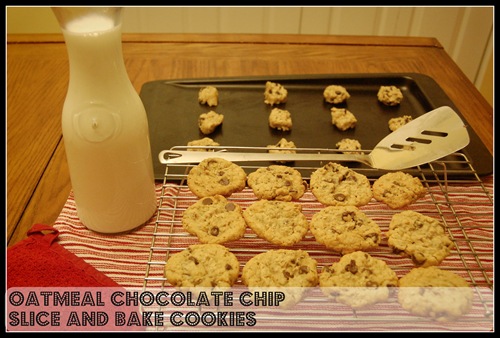 My mom used to make these incredible oatmeal cookies when I was growing up. I remember seeing the rolls of dough in the refrigerator and how quickly they would disappear after they were baked.
When I needed to bring 6 dozen cookies to a church lunch yesterday, I knew I had to get this recipe from her recipe stash. I added the chocolate chips for a little extra sweet, but you can also make these plain or with nuts.
What's great about these cookies is you can make the dough ahead of time, and slice and bake them when you are ready. Also, this recipe makes plenty of cookies to share, which is perfect for this time of year for holiday parties, cookie swaps, and sharing with neighbors!
You'll love the crispy outside and chewy inside to this classic oatmeal cookie as well!
Homemade Oatmeal Chocolate Chip Slice and Bake Cookies
Ingredients:
1 c. of shortening

1 c. of brown sugar

1 c. of granulated sugar

2 well beaten eggs

1 t. vanilla

1 t. baking soda

1 1/2 c. flour

1 t. salt

3 c. oats

1 bag of semi-sweet chocolate chips (optional or substitute 1/2 c. of nuts)
Directions:
Cream shortening and sugars until well blended.

Add eggs and vanilla and beat together.

In a separate bowl sift flour, soda, and salt.

Combine the dry ingredients gradually into the sugar mixture.

Add the oats and chocolate chips (or nuts) and use those muscles to stir well.

Shape dough into rolls (about 3-4 rolls) and wrap in waxed paper.
Chill for a minimum of 4 hours (up to a 2-3 days).

Once dough has chilled, slice and bake at 350 degrees for 10-12 minutes.

Eat one (or three) while they are still warm!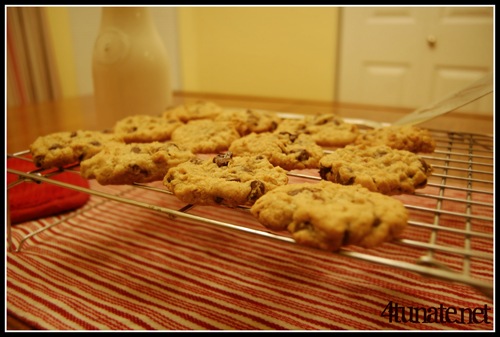 What's YOUR favorite cookie to bake this time of year?
(If you're looking for another holiday favorite, I highly recommend these Andes Mint Cookies. They are also a great crowd pleaser!)