All I Really Need to Know I Learned from Candy Land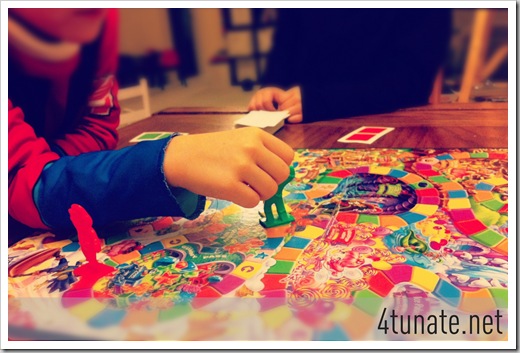 ~ Going backwards is hard. Really hard. Often times it involves weeping.

~ You can't predict your future.

~ Taking turns isn't just polite, it makes things work.

~ Even a cupcake can be disappointing.

~ Sometimes your path is winding, long, and unpredictable, and sometimes it's filled with shortcuts and sugar-coating.

~ A life filled with color is much better than black and white.

~ Competition is reality; learn to play the game early.

~ Your integrity is constantly being watched.

~ No matter what adults may tell you, everybody doesn't win.

~ Taking defeat well takes practice.

~ Celebrating someone else's victory is much more fulfilling than wallowing in your own defeat.

~ The faster you clean your mess, the quicker you are on your way to enjoying the next thing.
What have YOU learned lately through playing with your children?