Easy Layered Mexican Pizza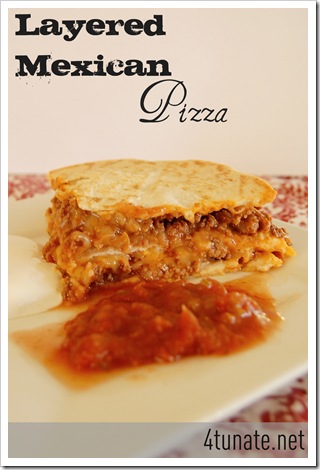 I tried an experiment in the kitchen this week and the results were definitely worth sharing.  It was one of those meals that you were already craving the leftovers as you were cleaning up the kitchen. 😉
I named it Layered Mexican Pizza, but you could also call it Mexican Lasagna. Take your pick! Either way, it only takes a handful of ingredients and  is a real quick dinner fix!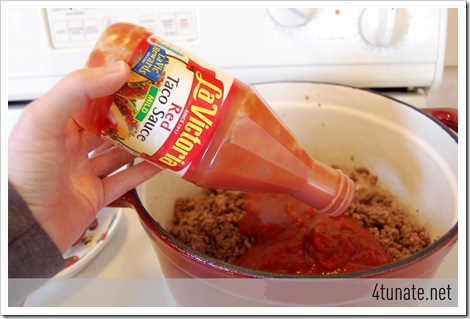 Start out by making taco meat, however you like to do so.  I love simple, so I cover my browned and drained ground beef with La Victoria Red Sauce and simmer for about 15-20 minutes.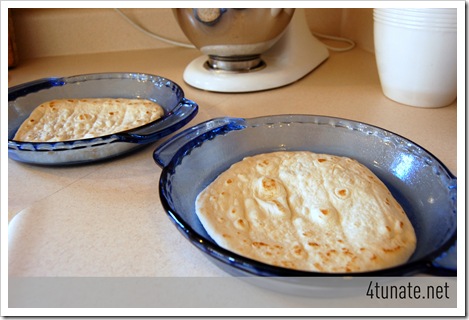 While you are waiting on the taco meat, layer two greased pie plates with flour tortillas. I used Trader Joe's Organic Homemade Flour Tortillas – YUM.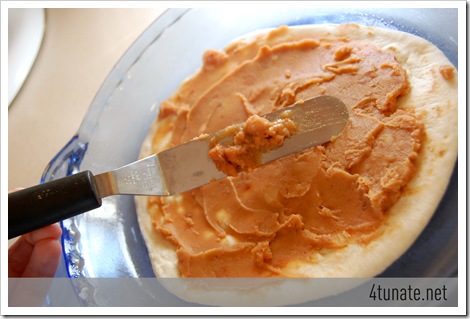 Next spread a layer of refried beans on the tortillas. I used canned, but this homemade recipe for refried beans looks great and is a more frugal solution.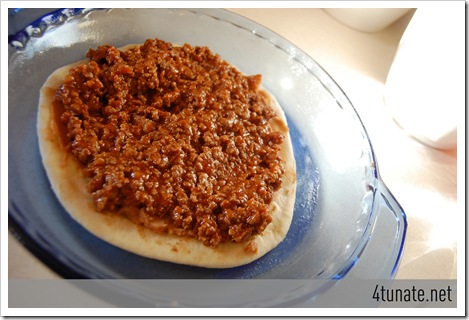 Next layer the taco meat on top of the beans,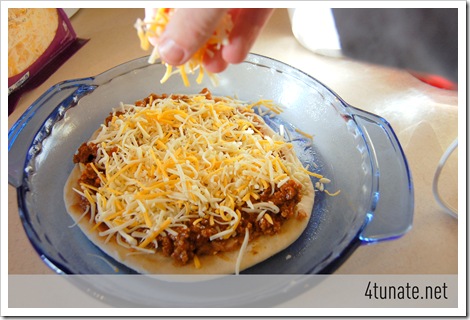 and then cover with a layer of shredded cheese.  Repeat layers again and then cover the top with a flour tortilla.  Place in a 350 degree oven for 15-20 minutes and you have a family friendly dinner in under a half an hour! 
Easy Cheesy. Mexican Feasty!
What's your favorite Mexican go to meal?
[print_this]
Easy Layered Mexican Pizza
Ingredients for Layered Mexican Pizza:
1 1/2 lb. of ground beef
1 bottle taco sauce
6 flour tortillas
1 can of refried beans
shredded cheese
sour cream and salsa for dipping
Directions for Layered Mexican Pizza:
1. Preheat oven to 350 degrees.
2. Grease two pie plates, and line each with a flour tortilla.
3. In a skillet or Dutch oven, brown ground beef, drain, and add taco seasoning.
4. Cover flour tortillas with a layer of refried beans, then taco meat, and shredded cheese.
5. Repeat layers and top with a flour tortilla.
6. Place in oven for 15-20 minutes, until the top layer is browned and the cheese layers are melted.
7. Serve with sour cream, salsa, and/or guacamole.
[/print_this]