The Not So Elaborate Days…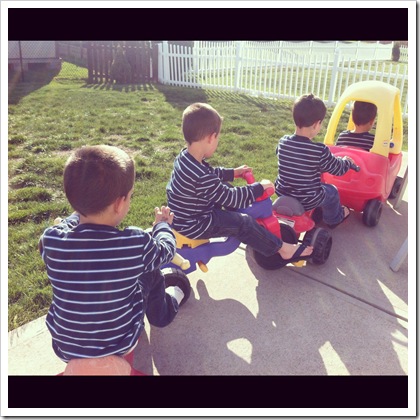 I can feel it slipping – these days of sunshine and simplicity.
Days of neglecting some of the to-do's for the gifts in front of me…
Days of constant noise and chatter…
Days of make believe, laughter, togetherness, and play…
Days of childhood that can be cherished a little longer…
It's fleeting at an unstoppable speed. 
So today there will be things that get neglected in order to soak more of THIS in.  There is a blanket in the sunshine that has our names on it this afternoon for reading.  We'll sit outside for our meal so that clean-up is quicker.  Chaos will be responded to with calmness (at least that's the goal). And we'll pick easy over complicated.
Today we'll choose to live seeing life not as an emergency, but as a gift.
And at the end of the day I doubt one of them will ask me why I didn't get around to folding the last load of laundry, or emptying the dishwasher, or answering emails…
It may not be elaborate, but it's a day we are going to embrace and live.